Beyond the Experience
Beyond all the extraordinary experiences, from romantic celebrations to a cocktail in the lounge, there is a team of remarkable individuals at Ascend Prime Steak & Sushi. Tasked with making the impossible probable, surpassing expectations, and creating lasting memories, this team transcends the meaning of hospitality. Now, they share their stories about their time with Ascend.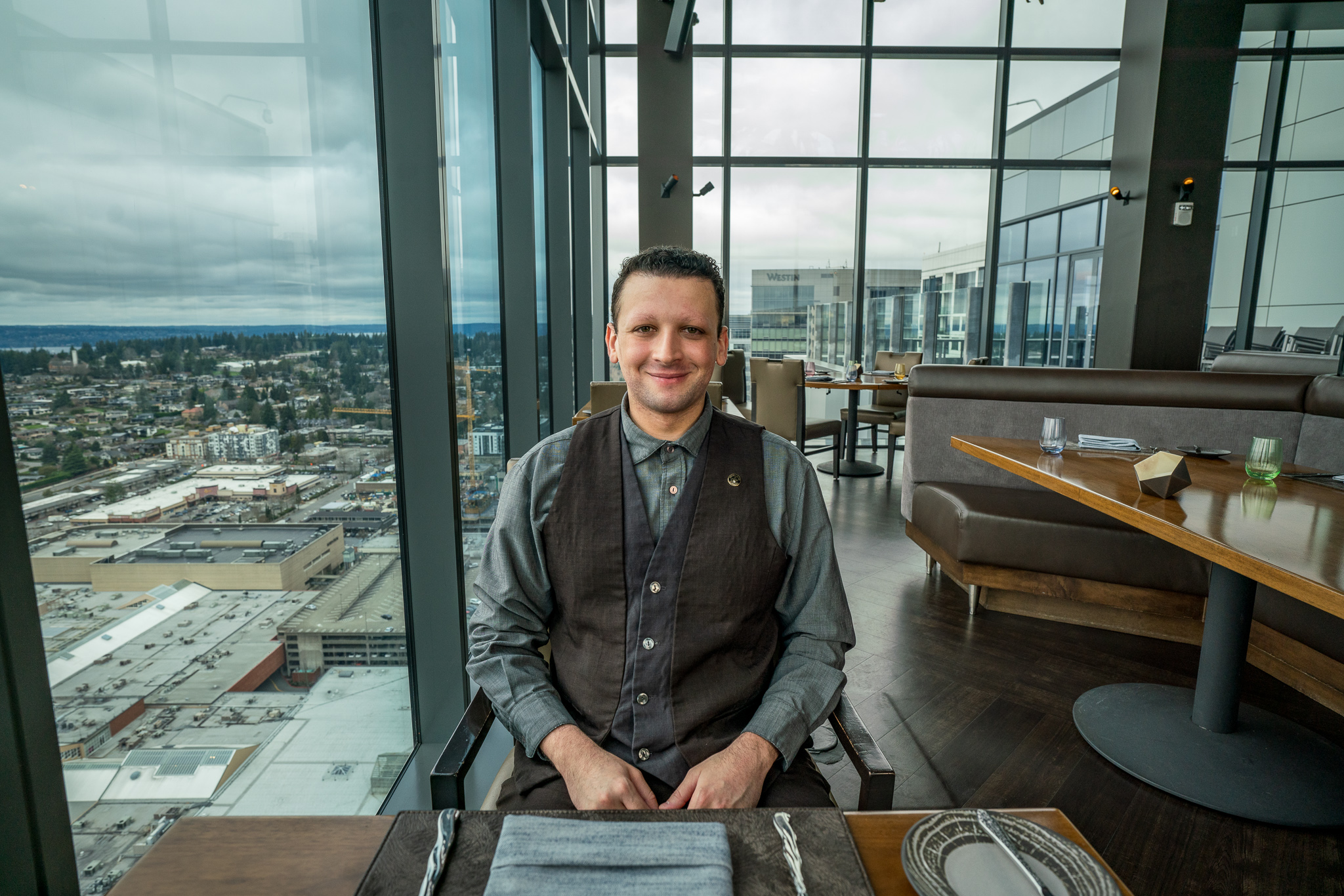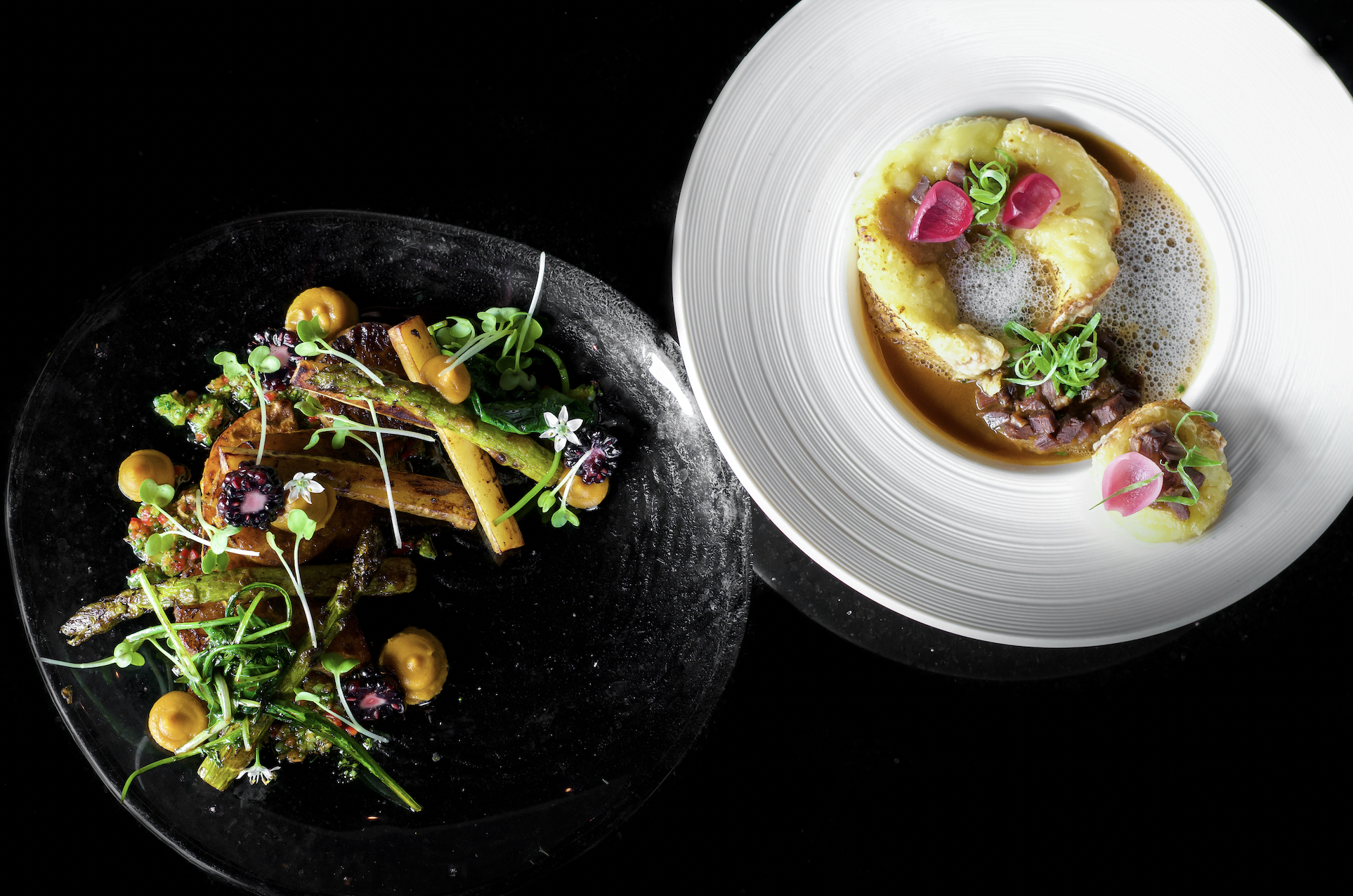 Q: WHAT MADE YOU WANT TO GET INTO THE RESTAURANT INDUSTRY?
A:I entered the restaurant industry 5 years ago. Originally immigrating from Brazil, construction was the only profession available to me at the time. But, when a Brazilian restaurant opened here in Bellevue, I decided to make the change and apply. I started out washing dishes but quickly moved up in the restaurant.

Q: WHAT IS YOUR FAVORITE DISH/DRINK AT ASCEND?
A: My favorite drink is the Cloud Nine because I love sweet drinks and it has a beautiful presentation, which is perfect for pictures. As for dishes, as much as I love the steaks, my favorite course is the Spicy Tuna & Prosicutto Roll, of course!
Q: WHAT WOULD YOU RECOMMEND TO A FIRST-TIME GUEST?
A: I would have them try the sushi rolls – any of them. You really can't go wrong with some sushi paired with our Truffle Mac & Cheese or Tempura & Sauteed Forest Mushrooms.
Q: WHAT HAVE YOU LEARNED MOST FROM WORKING AT ASCEND?
A: Besides the basic restaurant lingo and posture, working here has given me a new sense of time management and organization. It also has taught me how to connect with people, since I am inherently a shy person. I've gained a ton of confidence since working here.
Q: WHAT IS YOUR DREAM JOB AND ONE SKILL YOU GAINED FROM ASCEND CAN YOU TAKE TO IT?
A: I ultimately want to work in communications or marketing. Through Ascend teaching me how to better connect with others and be confident in myself, I believe I can achieve my career goals.
Q: WHAT ARE YOU PASSIONATE ABOUT OUTSIDE OF WORK?
A: I have a lot of passions, but my number one is motivating others. I like to watch my friends, family, and team members succeed at their own hurdles and passions.
ELEVATE YOUR CAREER BY JOINING DIEGO AND OUR SERVICE TEAM —

APPLY HERE

.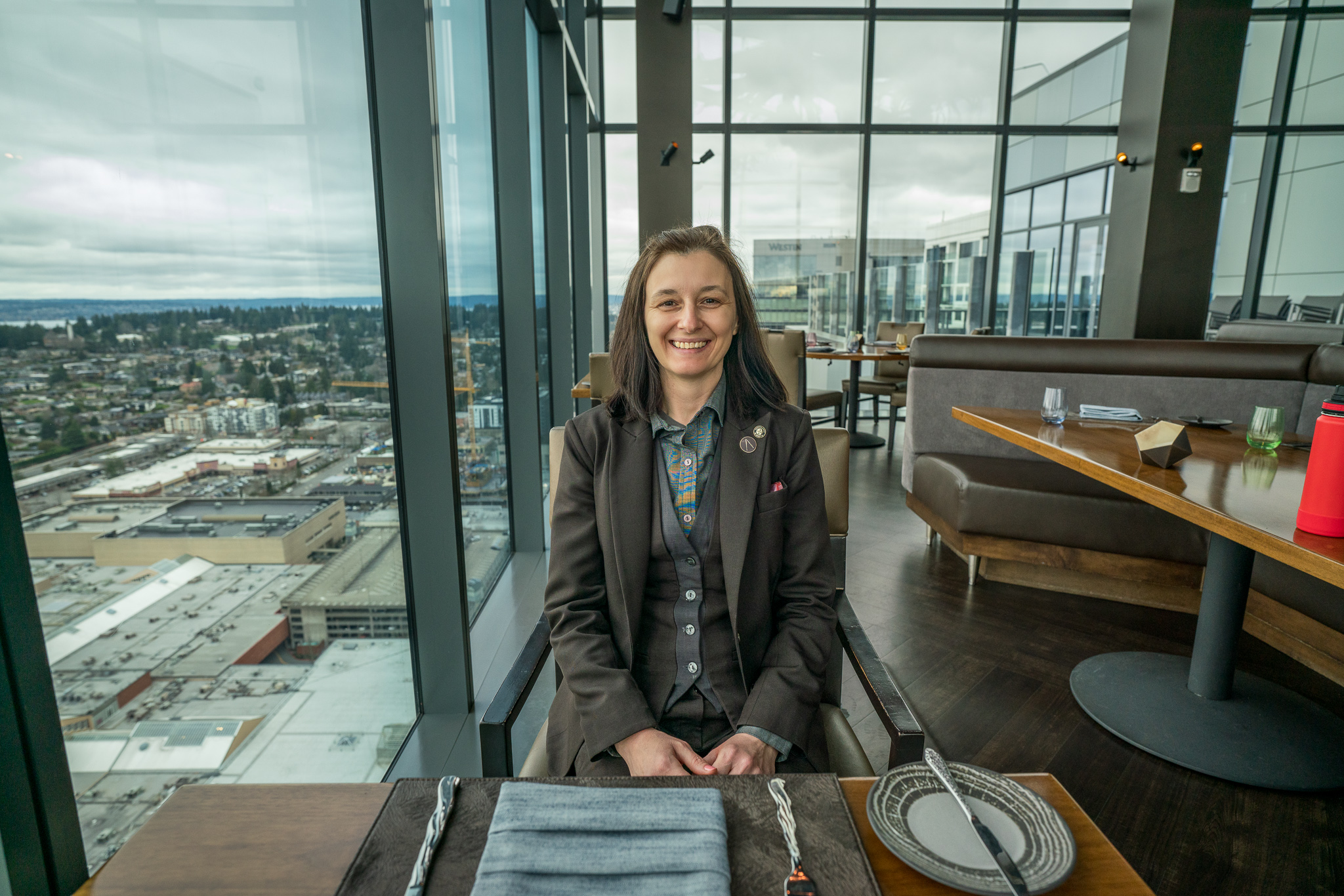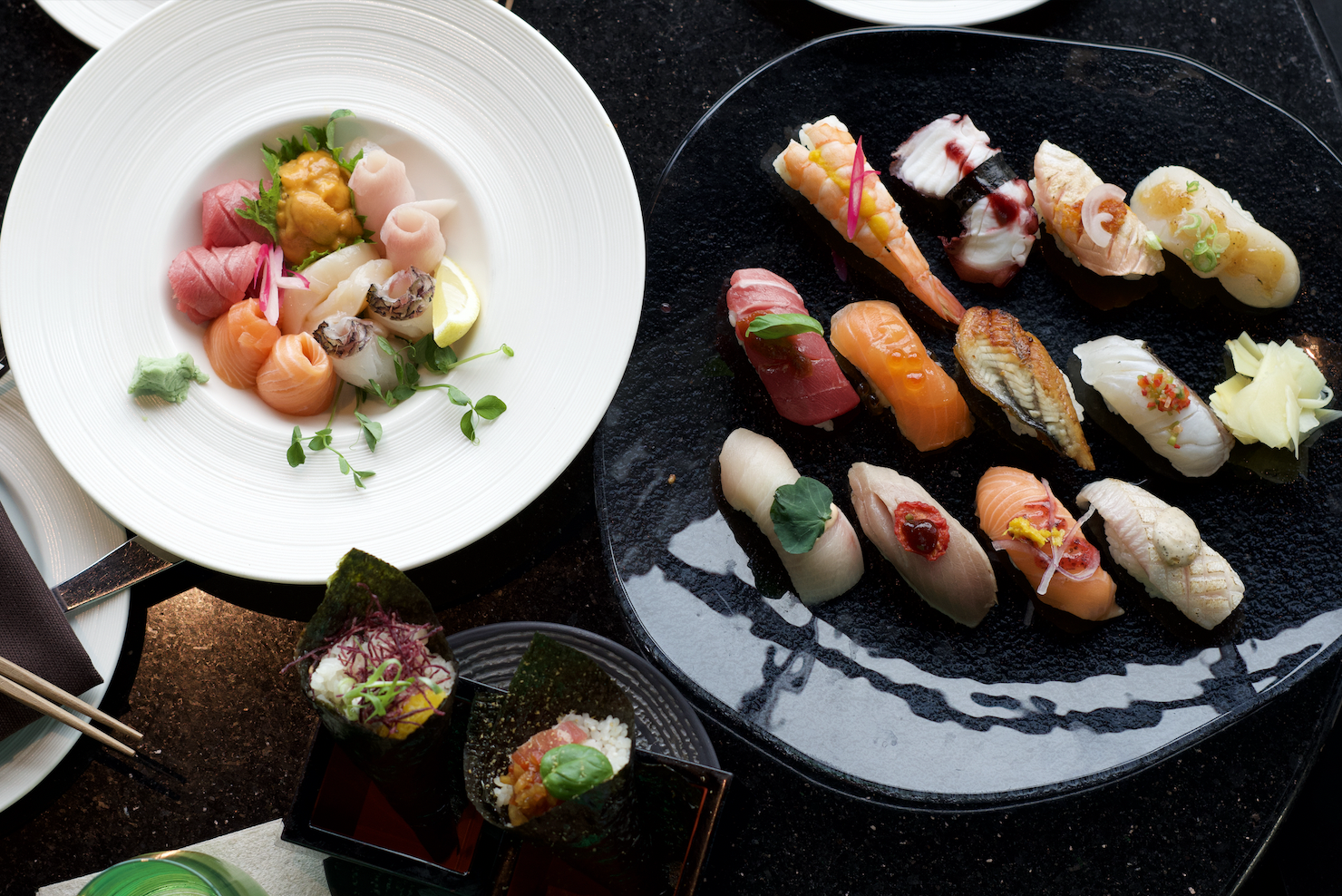 Q: WHAT MADE YOU WANT TO GET INTO THE RESTAURANT INDUSTRY?
A: I like to serve and take care of people. I started in the industry over 25 years ago, after I finished school as a pastry chef. Soon after that, I realized I wasn't meant to be behind the line, so I decided to become a server instead! I am originally from Bulgaria, where I worked in a fine dining establishment, different from Ascend.

Q: WHAT IS YOUR FAVORITE DISH/DRINK AT ASCEND?
A: I like scotch-based cocktails, and scotch, period! Drinks that have scotch or bourbon are flavorful and powerful, which is right up my alley.
Q: WHAT WOULD YOU RECOMMEND TO A FIRST-TIME GUEST?
A: There are a lot of intricate dishes here at Ascend. To a first-time guest, I would recommend the Spicy Tuna & Prosciutto Roll. I've never seen anything like it! The roll alone is amazing, especially with the little bit of crunch. It's quite a fun roll to try.
Q: WHAT HAVE YOU LEARNED MOST FROM WORKING AT ASCEND?
A: This is a hard question because we are still learning. We have Ascend Academy on Fridays, which Executive Chef Brandon Muehl leads. It's fun that we never settle, there's always something more that we wish for, and there's continuously a desire to learn. We always aim for "beyond."
Q: WHAT IS YOUR DREAM JOB AND ONE SKILL YOU GAINED FROM ASCEND CAN YOU TAKE TO IT?
A: Ascend is training — it's discipline and it's education. It's following leaders and being a role model for others, but also advancing forward in your career while getting the opportunity to work with the best professionals. I would say that I've reached my dream job. A lot of people look around and say, "I want to do this and that," I want to serve at Ascend.
Q: WHAT ARE YOU PASSIONATE ABOUT OUTSIDE OF WORK?
A: I have family and three dogs: a Cocker Spaniel, a Mini Schnauzer, and a Belgian Shepherd. I like to take them hiking as often as I get.
ELEVATE YOUR CAREER BY JOINING MARIETTA AND OUR SERVICE TEAM —

APPLY HERE

.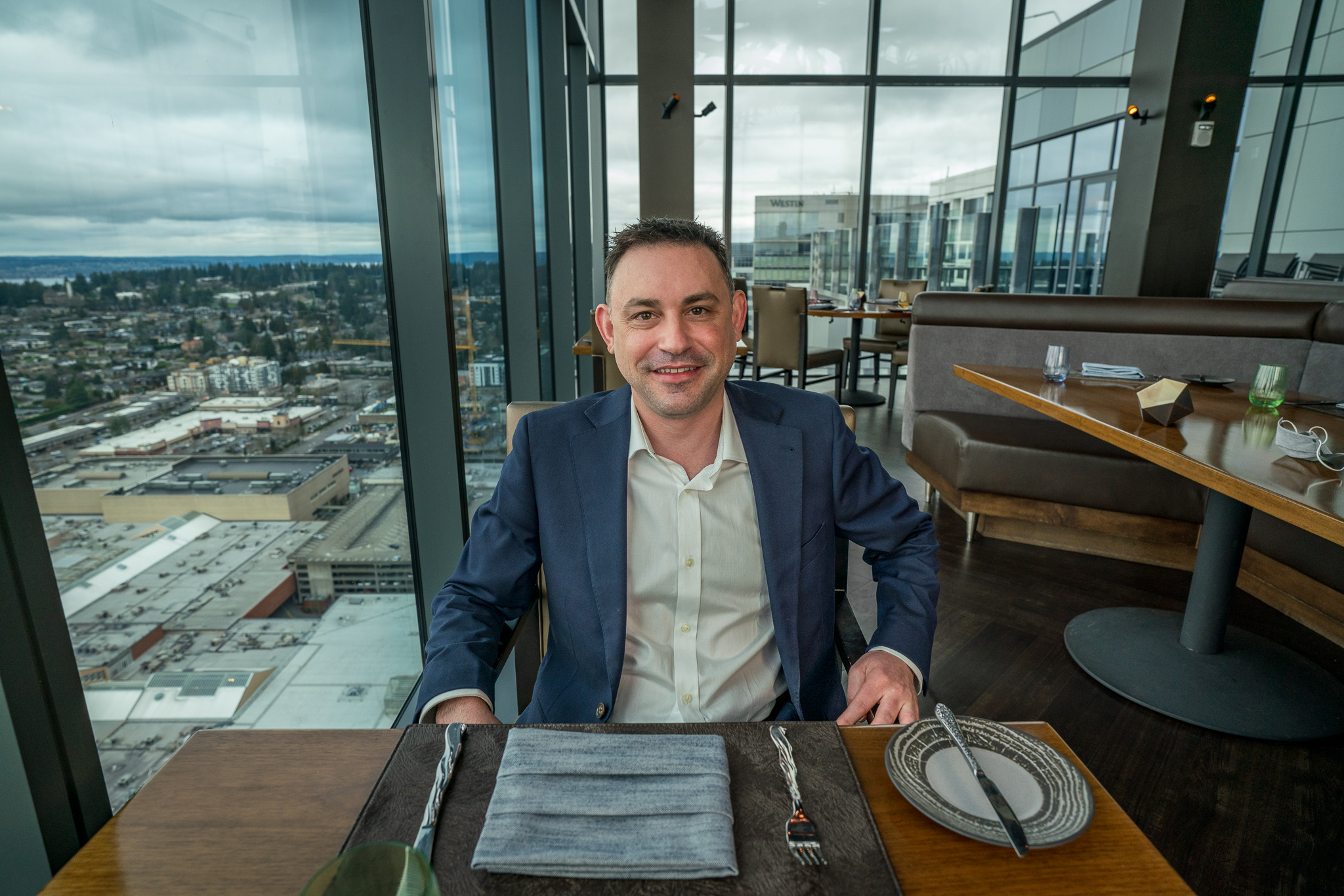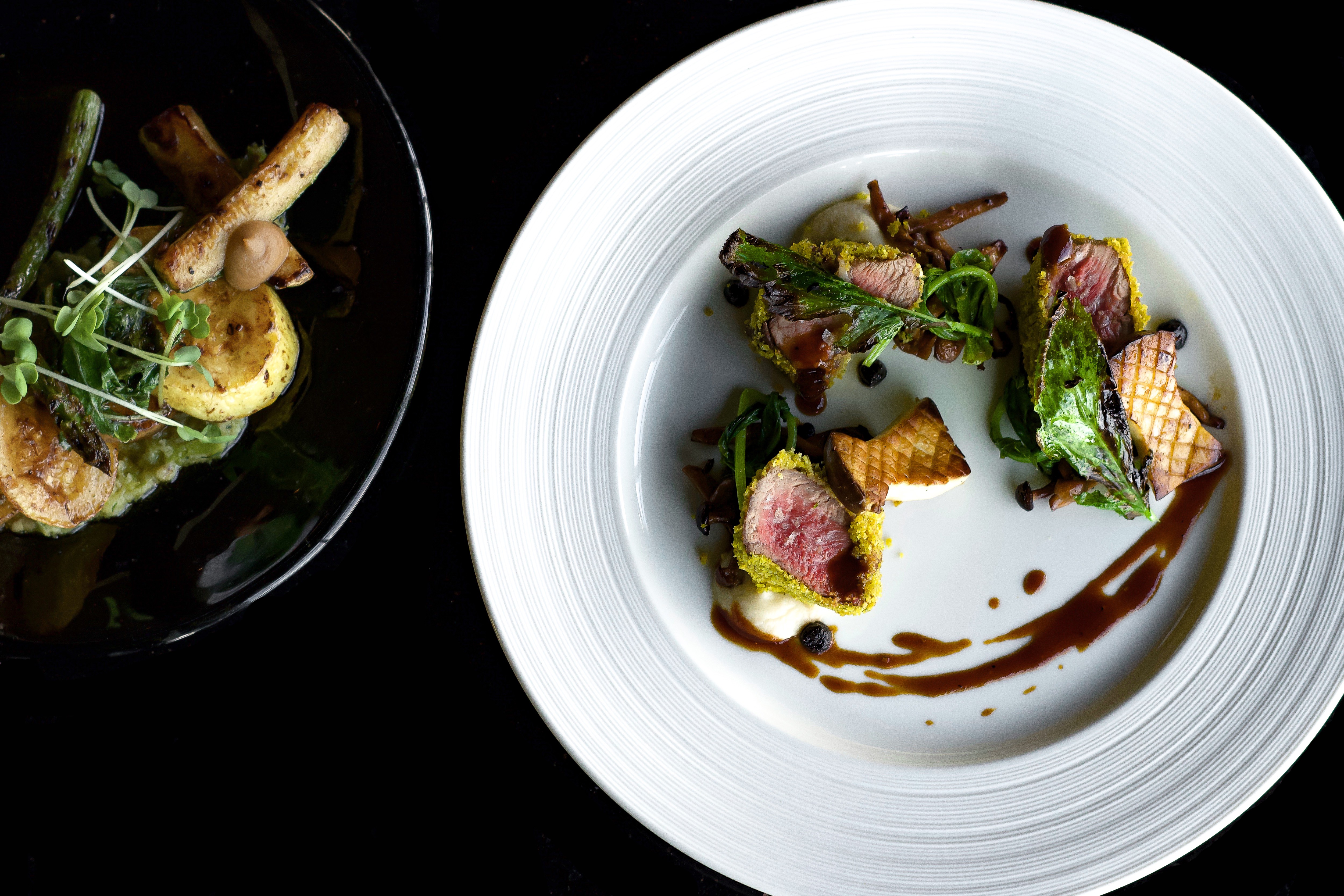 Q: WHAT MADE YOU WANT TO GET INTO THE RESTAURANT INDUSTRY?

A: My mom was in the industry, so I started at 15.5-years-old in Port Townsend, Washington, at a place called Waterfront Pizza. Best pizza on the planet! I started as a prep cook, dishwasher, and server there.

Q: WHAT BROUGHT YOU TO ASCEND?

A: A friend of mine always wanted to work here. He unfortunately was never able to get the chance, so I decided to check it out for an interview. I came up and was blown away, even though I've been in the industry for 25 years. I would rather be here than any other restaurant.

Q: WHAT IS YOUR FAVORITE DISH/DRINK AT ASCEND?

A: My favorite thing here is the 8-ounce "Cap" of Ribeye. The marbling, the flavor… it's my favorite steak on the menu, even though it's not the most expensive one.

Q: WHAT WOULD YOU RECOMMEND TO A FIRST-TIME GUEST?

A: I would recommend a variety. I love it when people say, "I don't need a menu, pick for me!" I give them oysters, sushi, a salad course (our Caesar is pretty unique), the Cap of Ribeye, and the Miso Black Cod. For dessert, we're going to give them a Magic Mushroom and a Skyfall. We actually have several regular guests that ask specifically for no menu, and allow us bring them our recommendation.

Q: WHAT HAVE YOU LEARNED MOST FROM WORKING AT ASCEND?

A: This is a very large restaurant, 22,000-square-feet. On my second day, I started off certifying and training servers. Over the course of my time here, you really get to see any and everything, things that go wrong and things that go right. When you're the first person here in the morning, seeing all main meal periods, you see a lot happen. I've learned to account for the small things that make the restaurant run as well as it does.

Q: WHAT IS YOUR DREAM JOB AND ONE SKILL YOU GAINED FROM ASCEND CAN YOU TAKE TO IT?

A: I would love to be a tour guide at Turtle Island in Fiji.

Q: WHAT ARE YOU PASSIONATE ABOUT OUTSIDE OF WORK?

A: I have two kids, so my kids are my passion, 17 and 4. They make any day entertaining. I like to teach them to be humans — it's amazing to watch. I mean, I like snowboarding and ping pong and pool and pizza, too, but my children are the most important thing to me.

ELEVATE YOUR CAREER BY JOINING AARON AND OUR TEAM —

APPLY HERE

.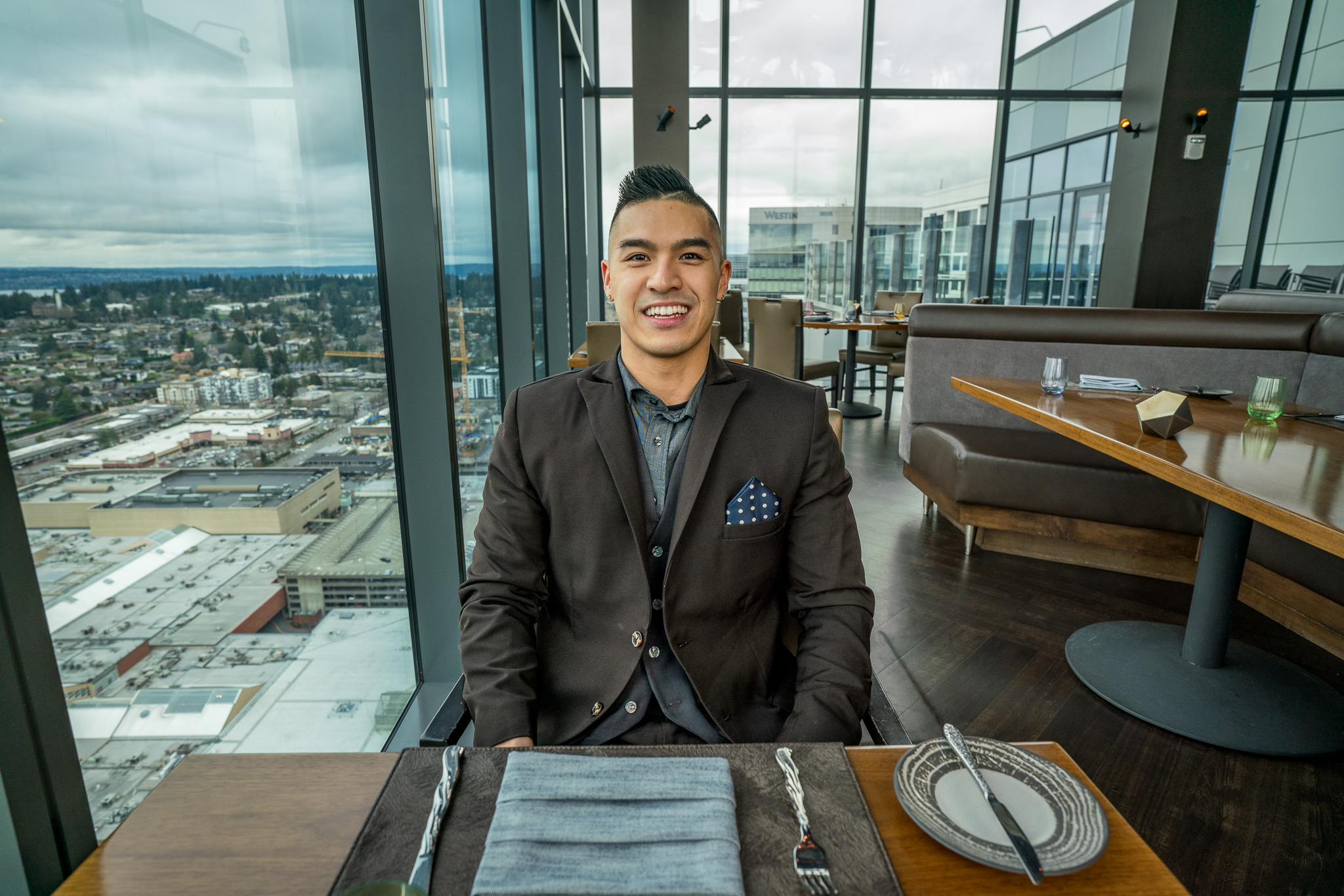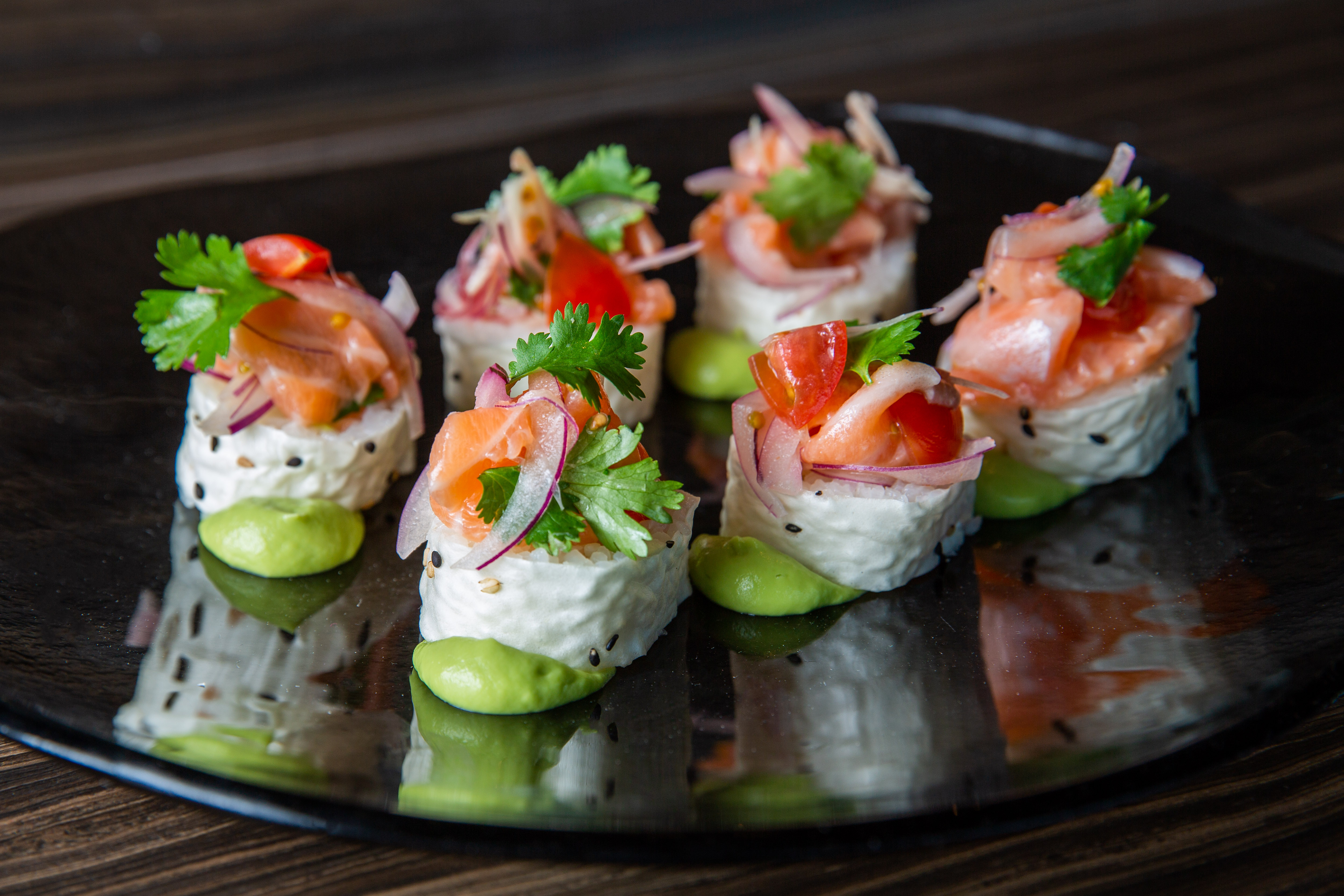 Q: WHAT MADE YOU WANT TO GET INTO THE RESTAURANT INDUSTRY?

A: My mother always taught me how important it is to share the table experience with others. Ever since then, I found my passion within the hospitality industry. I started working in restaurants about 8 years ago at Joey's, but I always dreamed of working in fine dining. After switching restaurants a few times, I finally made it to here to Ascend Prime Steak & Sushi.

Q: WHAT BROUGHT YOU TO ASCEND?

A: Opportunity. Before I came here, I did my research: their core values, the management, and the vision. It's the greatest restaurant I've ever seen out here, since I grew up in Seattle. From the first day I came in, I always have wanted to look to our leaders, learn, and excel.

Q: WHAT IS YOUR FAVORITE DISH/DRINK AT ASCEND?

A: I'm a big steak fan. A5 is one of those steaks that my brothers and I like to go around Seattle and try from all over Japan, and I would say that Ascend, honestly, has the best A5 Wagyu around town. What Chef Brandon Muehl has created here is worth the experience.

Q: WHAT WOULD YOU RECOMMEND TO A FIRST-TIME GUEST?

A: When dining at a restaurant titled "Ascend Prime Steak & Sushi," you've got to have a little bit of both. Experience both ends of the spectrum that Ascend offers. My favorite roll is the Salmon Ceviche: right when you get that first bite, you're like, "Whoa." From there, I would transition to the Cap of Ribeye. I love steaks with a lot of flavor, and cooking over the wood fired grill brings out that flavor, tenderness, and quality of the beef.

Q: WHAT HAVE YOU LEARNED MOST FROM WORKING AT ASCEND?

A: Leadership. After every meeting, learning from how the managers and leaders talk and carry themselves makes you want to emulate that, and carry it to your guests. That is who we are. Beyond leadership, I've really learned to push the limits. Everyone here pushes the limits of what the hospitality industry should be. It makes me want to apply that to my own personal life.

Q: WHAT IS YOUR DREAM JOB AND ONE SKILL YOU GAINED FROM ASCEND CAN YOU TAKE TO IT?

A: My dream job is to be a real estate investor. That goes back to Ascend telling me to push the limits, making the impossible possible: turning ceviche into a roll, making A5 Wagyu accessible, putting Washington beef suppliers on the map. Having that open mind and the drive behind it, that would push anyone into the career they aspire to.­­

ELEVATE YOUR CAREER BY JOINING MINH AND OUR DINING ROOM TEAM —

APPLY HERE

.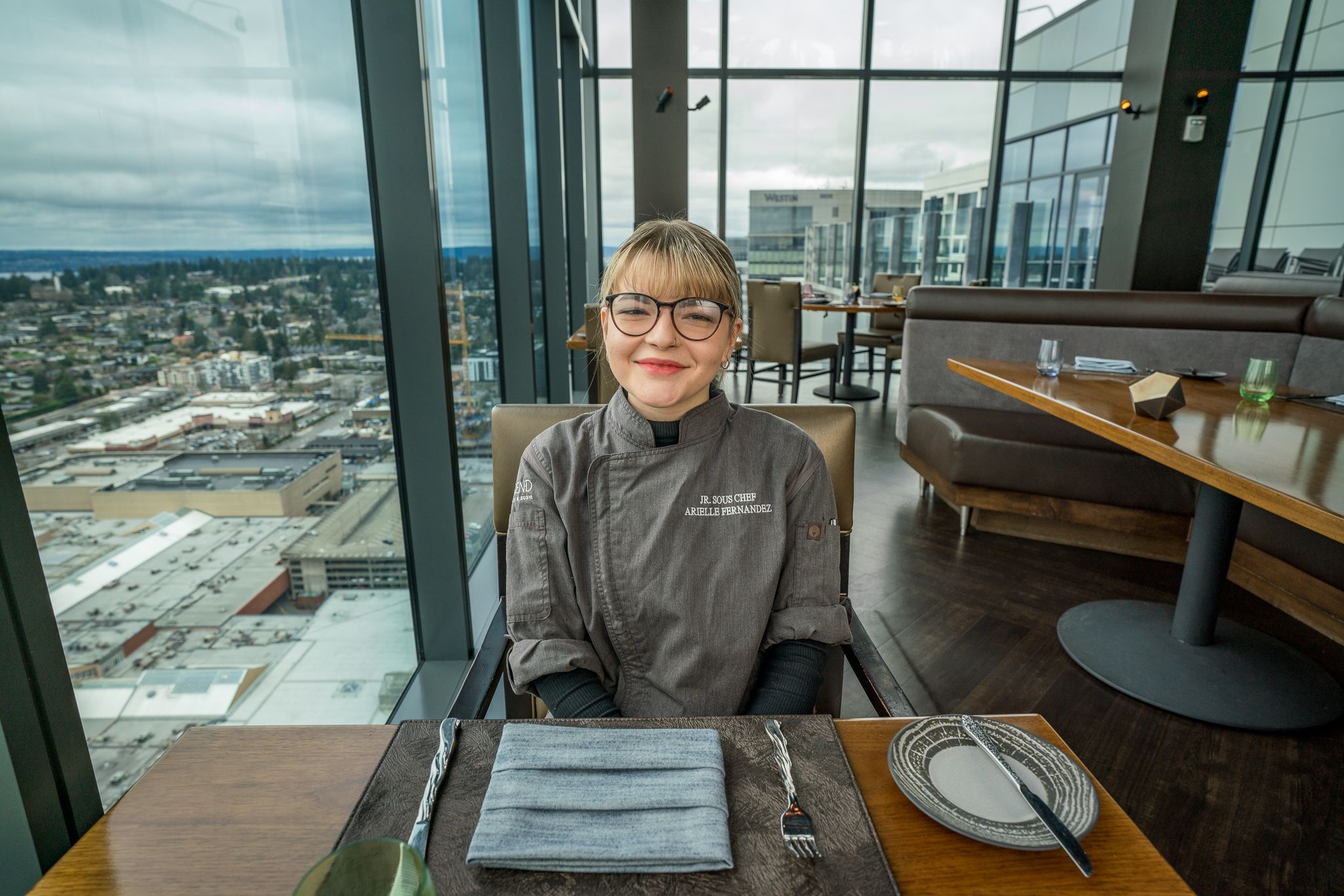 Q: WHAT DREW YOU TO THE RESTAURANT INDUSTRY?

A: I started 10 years ago — I come from a family of restauranters, so I was raised in a restaurant. They owned all sorts of restaurants, from breakfast to Mexican to Southern cuisine. So technically, I started 20 years ago, when I was born!

Q: HOW DID YOU COME TO ASCEND PRIME STEAK & SUSHI?

A: I came to Seattle through an internship with Ascend called "31 Lives." I worked every station in the kitchen as well as every role in front of house for three months, then I was offered a spot to stay here full time.

Q: WHAT IS YOUR FAVORITE DISH ON THE MENU?

A: When I started cooking at Ascend, I started on appetizers, so my favorite dish would be the Kurobuta Pork Belly. It is near and dear to my heart — it was the first item I learned to master, start to finish.

Q: DO YOU HAVE A GO-TO DISH YOU WOULD RECOMMEND TO A FIRST-TIME GUEST?

A: Definitely our sushi. I love sushi, but I particularly love our contemporary sushi rolls. My first recommendation would be the King Salmon Ceviche Roll or the Spicy Tuna & Prosciutto Roll, they're both so craveable.
Q: WHAT IS YOUR DREAM JOB? IS THERE ONE SKILL YOU GAINED FROM ASCEND THAT YOU WOULD BRING TO IT?
A: I want to own a café or a restaurant. Basically, every skill I've learned at Ascend I could take to my dream job. I've done everything from cooking to management.
Q: OUTSIDE OF WORK AT ASCEND, WHAT ARE YOUR PASSIONS?

A: I'm really into film, photography, music, and media in general. Everything from watching movies, to taking pictures, to making playlists.

ELEVATE YOUR CAREER BY JOINING ARIELLE AND OUR SERVICE TEAM —

APPLY HERE

.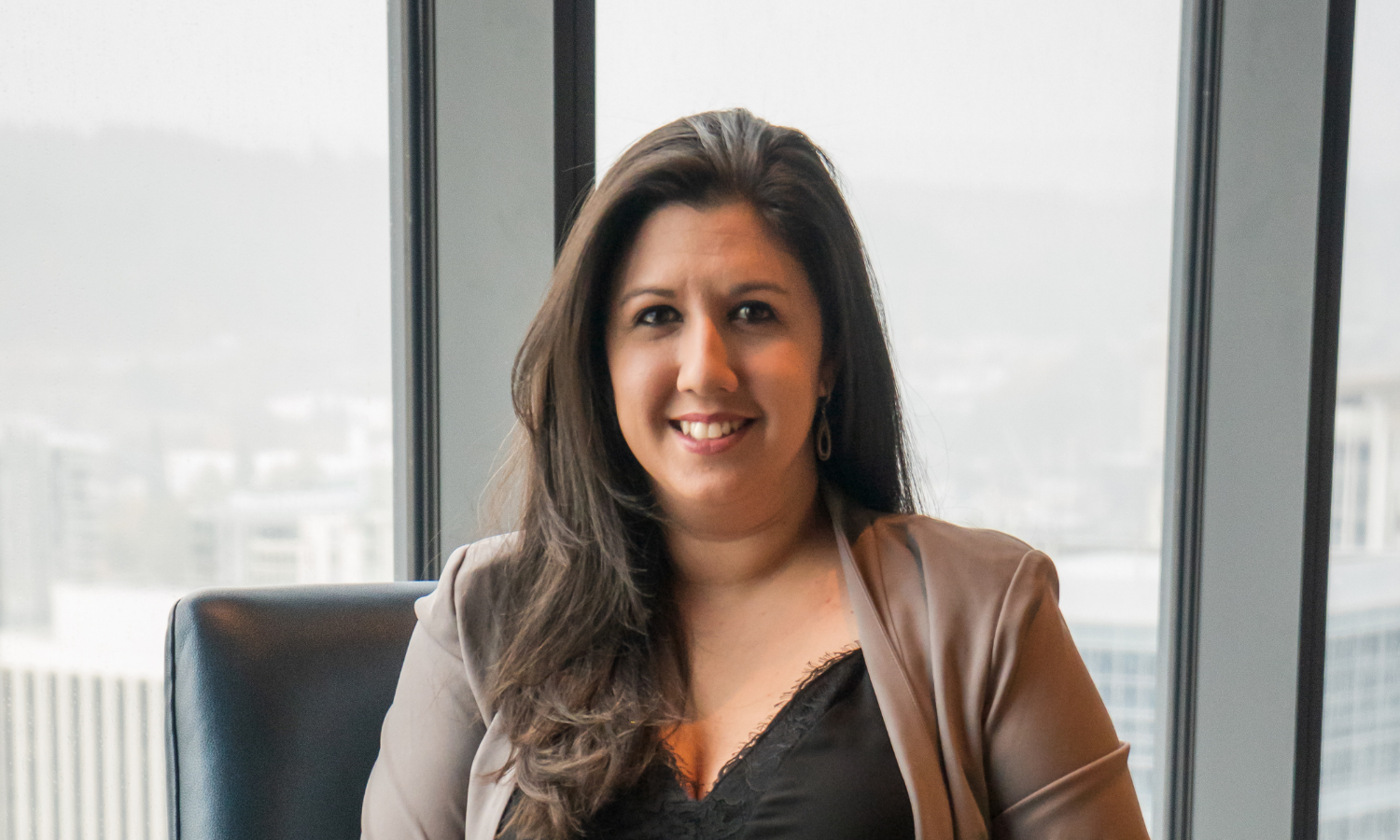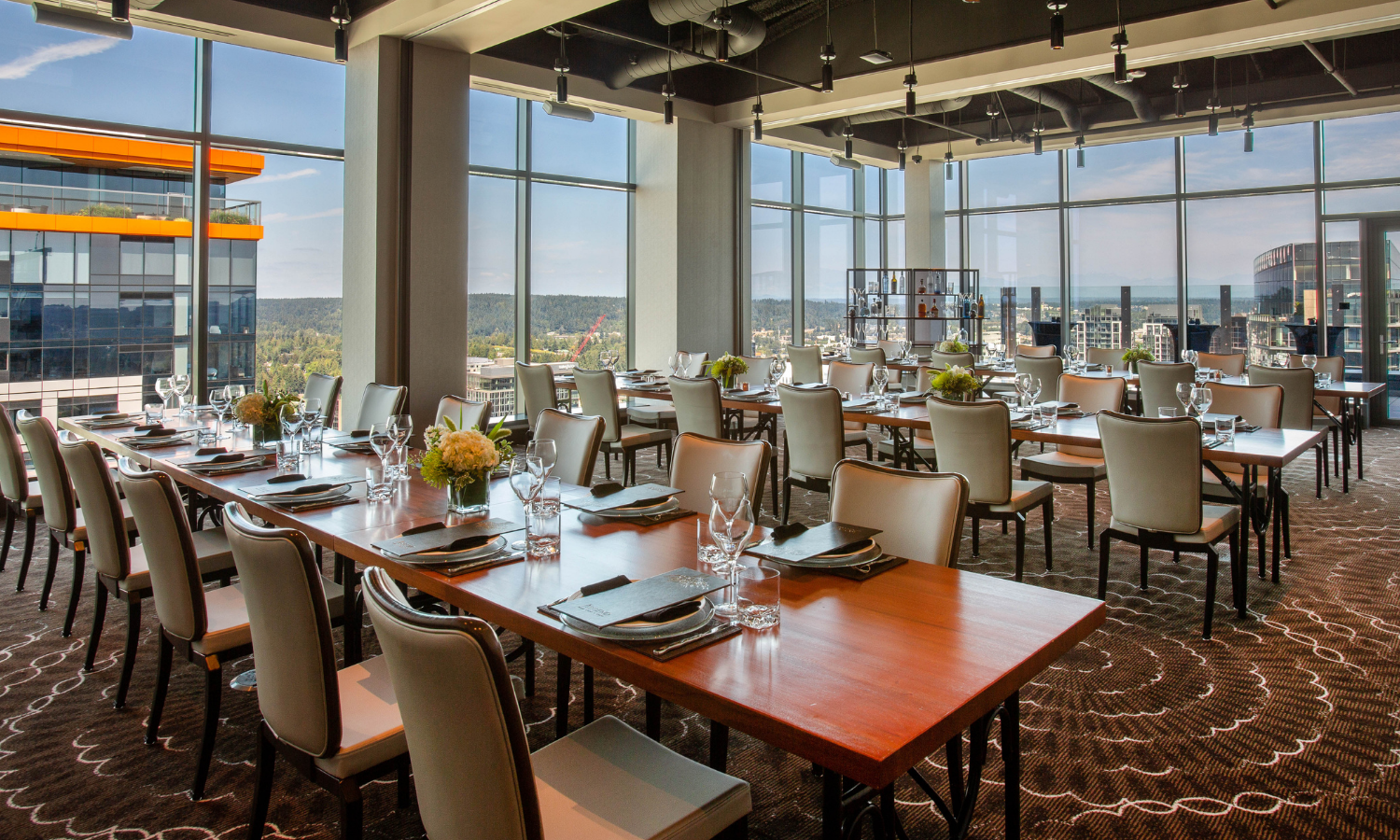 Ever wonder what's behind the "This Room Is Closed for a Private Event" sign? Alysha Janmohamed can tell you. As the sales and events manager for Ascend Prime Steak & Sushi, Alysha's team transcends ordinary events to create unbelievable experiences, from personalized attributes to custom-tailored experiences.
Alysha started her hospitality journey when she was very young at her family's quick-service restaurants, ranging from Italian and Mediterranean to Thai and Mexican cuisine. "As soon as I could reach the register, I begged to spend weekends cashiering for my dad," she says. From that early age, she said she developed a passion for food bringing people together, and creating exceptional guest experiences to remember for a lifetime.
In 2018, Alysha first came to Ascend Prime Steak & Sushi, when she interviewed for a manager position. While that door wasn't ready to be opened and she ended up taking another job elsewhere, and she returned to Ascend in 2021 to lead in events and private dining.
"I am continuously encouraged to be innovative, to be creative, to think outside the box, and so much more," Alysha says of her time at Ascend. While she admits not every one of her ideas takes off, she's always motivated to keep pushing the envelope in an environment that allows her to grow and develop endlessly.
As the expert and the mastermind behind many incredible private dining events, Alysha also collaborates extensively with the culinary team to help develop and curate menus for more intimate experiences. This requires her to have in-depth knowledge of the menu and ingredients, inside-and-out, in order to create the best experience for her guests.
For new visitors to Ascend, Alysha's go-to recommendation is the Baby Beet Salad, but for seasoned guests looking to try something unique and extraordinary, she suggests the Seared Sonoma Fois Gras, a playful and delicate course layered with various components, textures, and flavors.
And what's her dream job? She's already there. "I have it, but that doesn't mean I've reached the summit. My dream is to continue to help elevate the experiences that we can provide here. I am blessed to be in the company of so many individuals with the same vision and the drive to achieve it though."

ELEVATE YOUR CAREER BY JOINING ALYSHA AND OUR TEAM —

APPLY HERE

.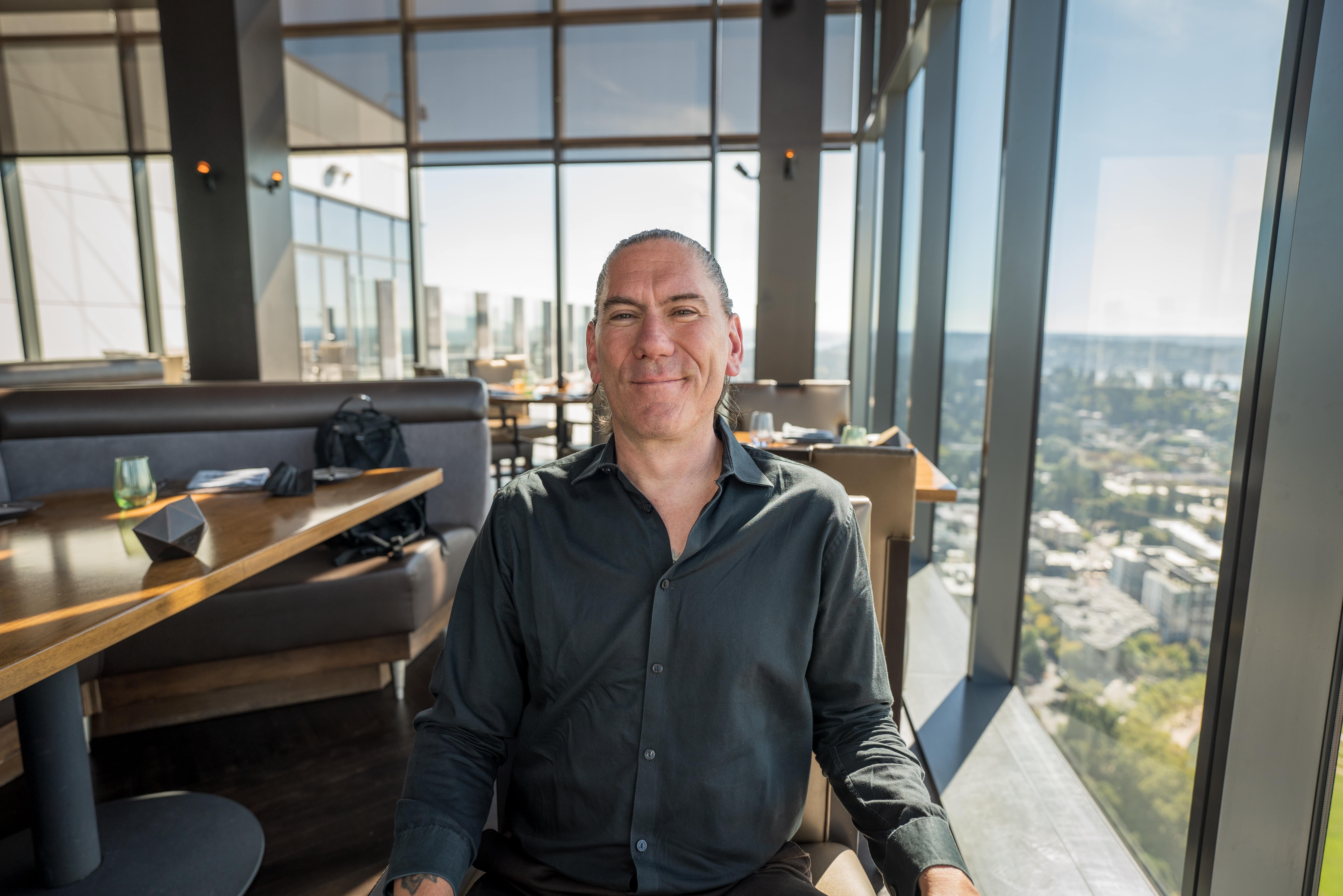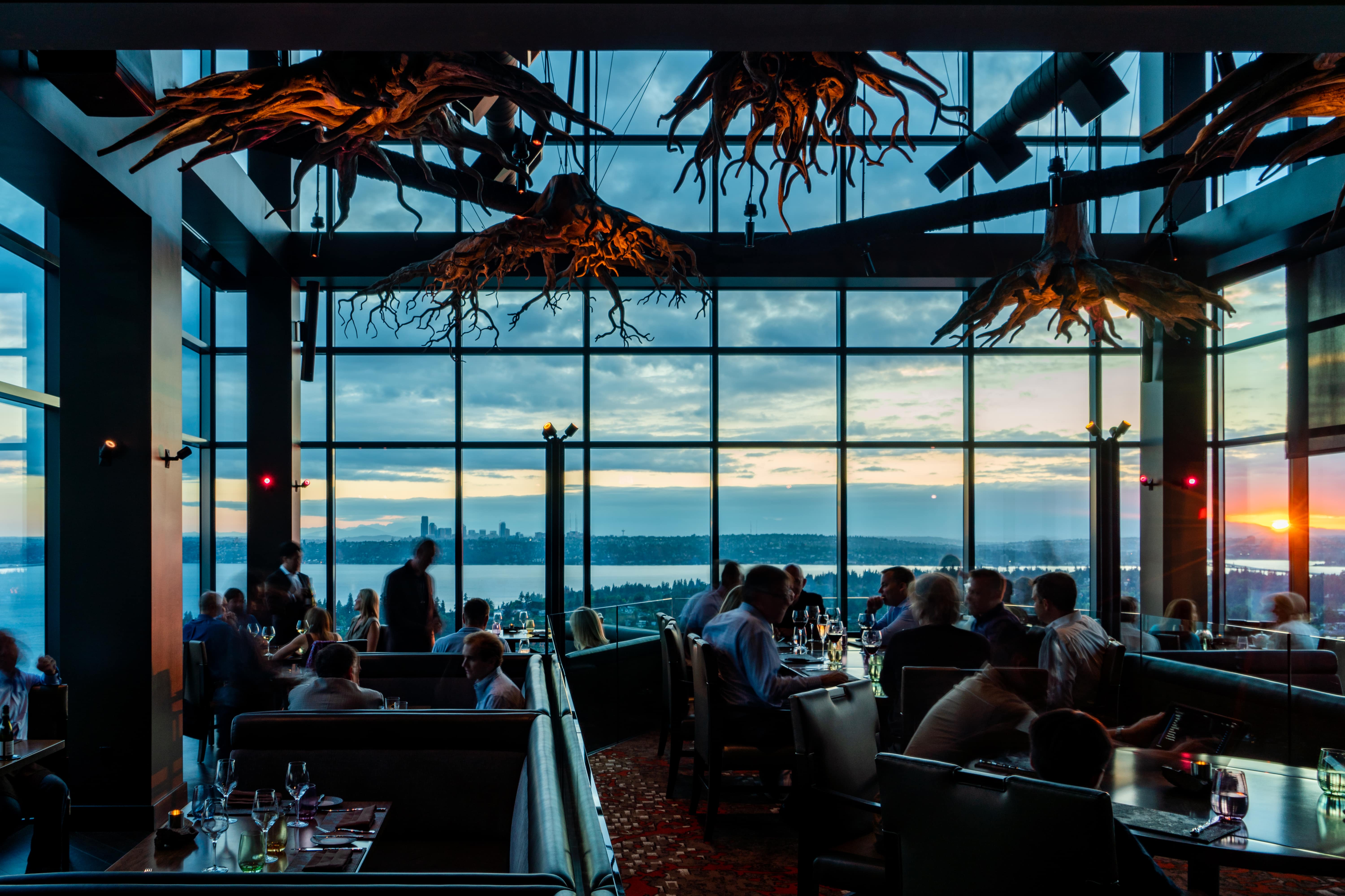 Tyler Williams is a food service industry veteran, embarking on his journey at the age of 15. "I served retired people at a retirement community, taking orders for Jell-O and serving that Jell-O — that's where it started, 1985," he says with a smile.

As he circumnavigated the restaurant world in adolescence and in adulthood, serving everything from Jell-O to Wagyu beef, Tyler formed countless strong bonds and professional relationships with industry experts. One of those connections brought him to the team at Ascend Prime Steak & Sushi in 2018.
While he's worn many hats in his tenure, Tyler is now a Captain on the Ascend service team. He helps to guide the ebb and flow of the restaurant and ensures the smooth sailing for guests, servers, and the culinary team. He is passionately responsible for many team members' successes and believes education is a key fundament of his role. "It's necessary for us to keep each other accountable while imparting wisdom," he adds.
Tyler believes that part of the art and soul at Ascend is the close attention to detail and anticipating customer needs. "I love watching the transformation of people going from hungry to happy," he says. "There is something to be said about curating an experience that a person can take with them and cherish for the rest of their lives."
ELEVATE YOUR CAREER BY JOINING TYLER AND OUR SERVICE TEAM —

APPLY HERE

.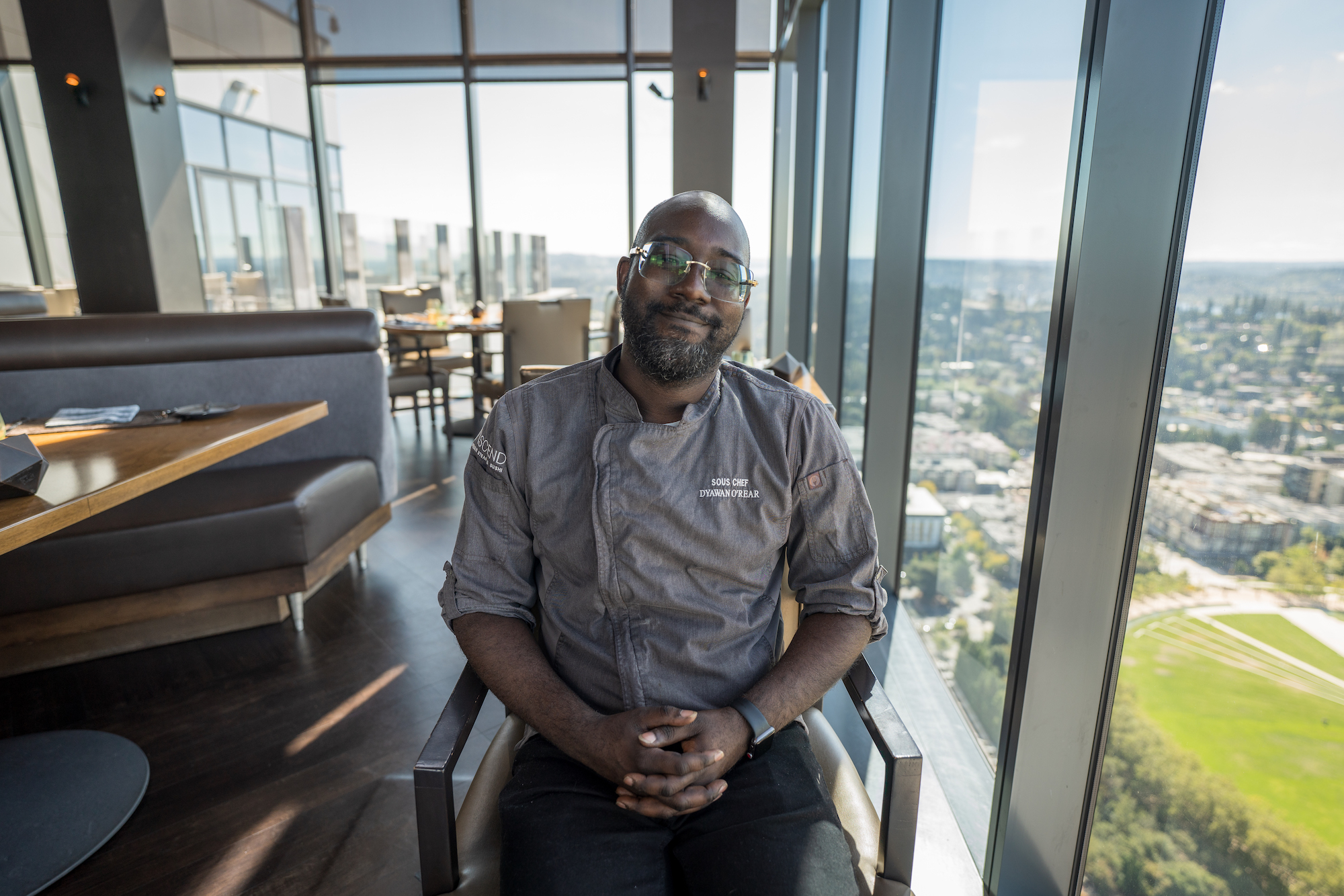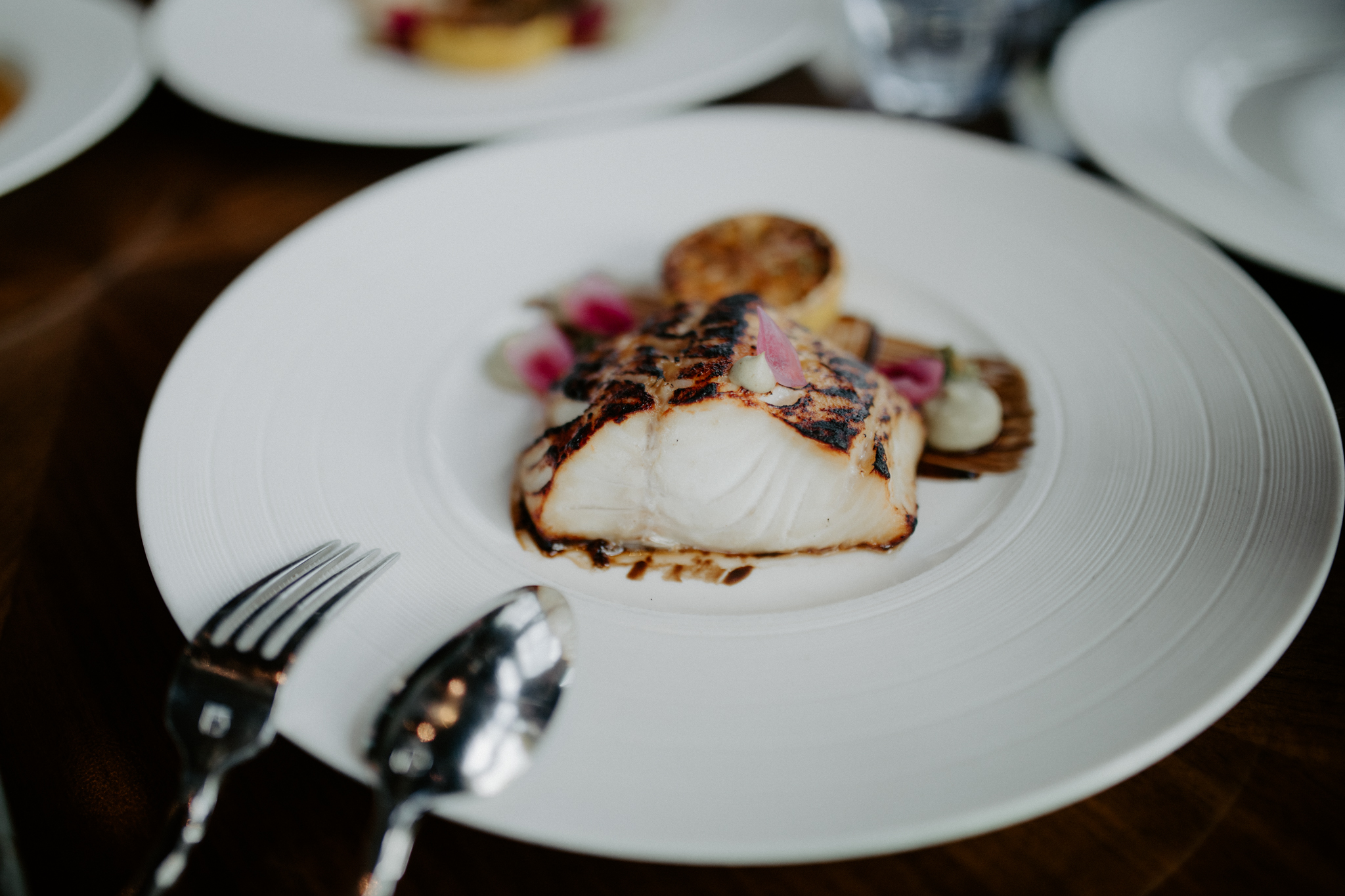 Since the age of 15, Sous Chef Dyawan O'Rear has been working in restaurants. Most recently in his career, he relocated from Detroit to the Seattle area, searching for new opportunities for his culinary skills to blossom. "The food scene out here is more appreciated than back home," Dyawan says. "People out here appreciate good food, good plating, good atmosphere."
He also believes that Ascend Prime Steak & Sushi is a culinary rarity, not only in the Pacific Northwest but the country. The restaurant has become his haven, a place where the ingredients and the people truly matter: "Relationships can be built off of food. I believe in that."
While he misses Detroit, he feels at home at Ascend. "Most of the people I've been working with have been like family to me," Dyawan says. "I'm thousands of miles away from my real family, so the people I work with I consider my family out here."
According to Dyawan, the Ascend family is not your ordinary group of close-knit individuals. "We all come from different walks of life, different places in the world, and the one thing that has brought us together is the awesome food we create here at Ascend," he adds. "We're all a family, we're all one, and that's what I appreciate not only about Ascend Prime Steak & Sushi, but also about Ascend Hospitality Group. If there was anything I ever needed, I know that they would be there for me." Dyawan has found a home away from home, and he plans to stay.
ELEVATE YOUR CAREER BY JOINING SOUS CHEF DYAWAN O'REAR AND OUR CULINARY TEAM —

APPLY HERE

.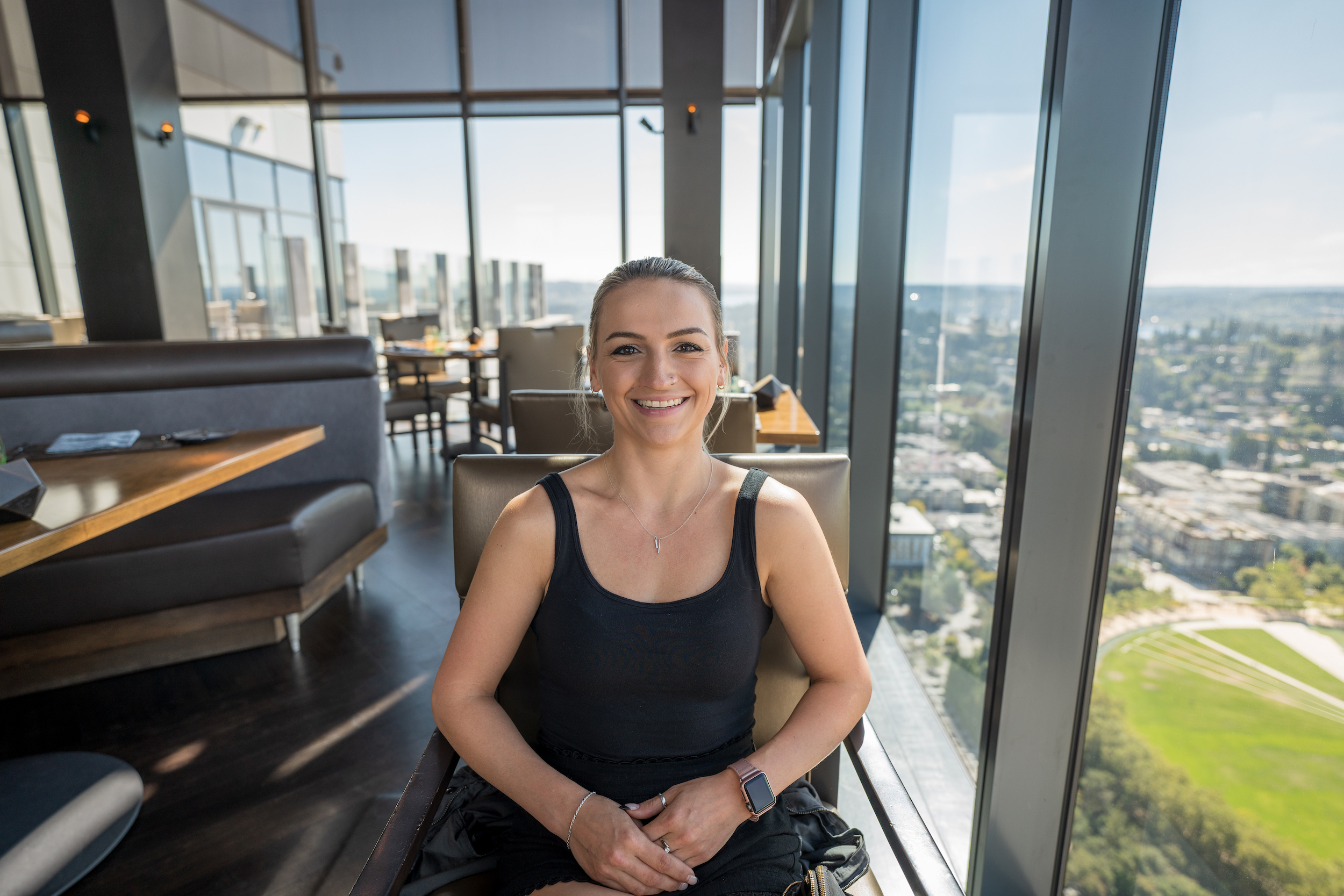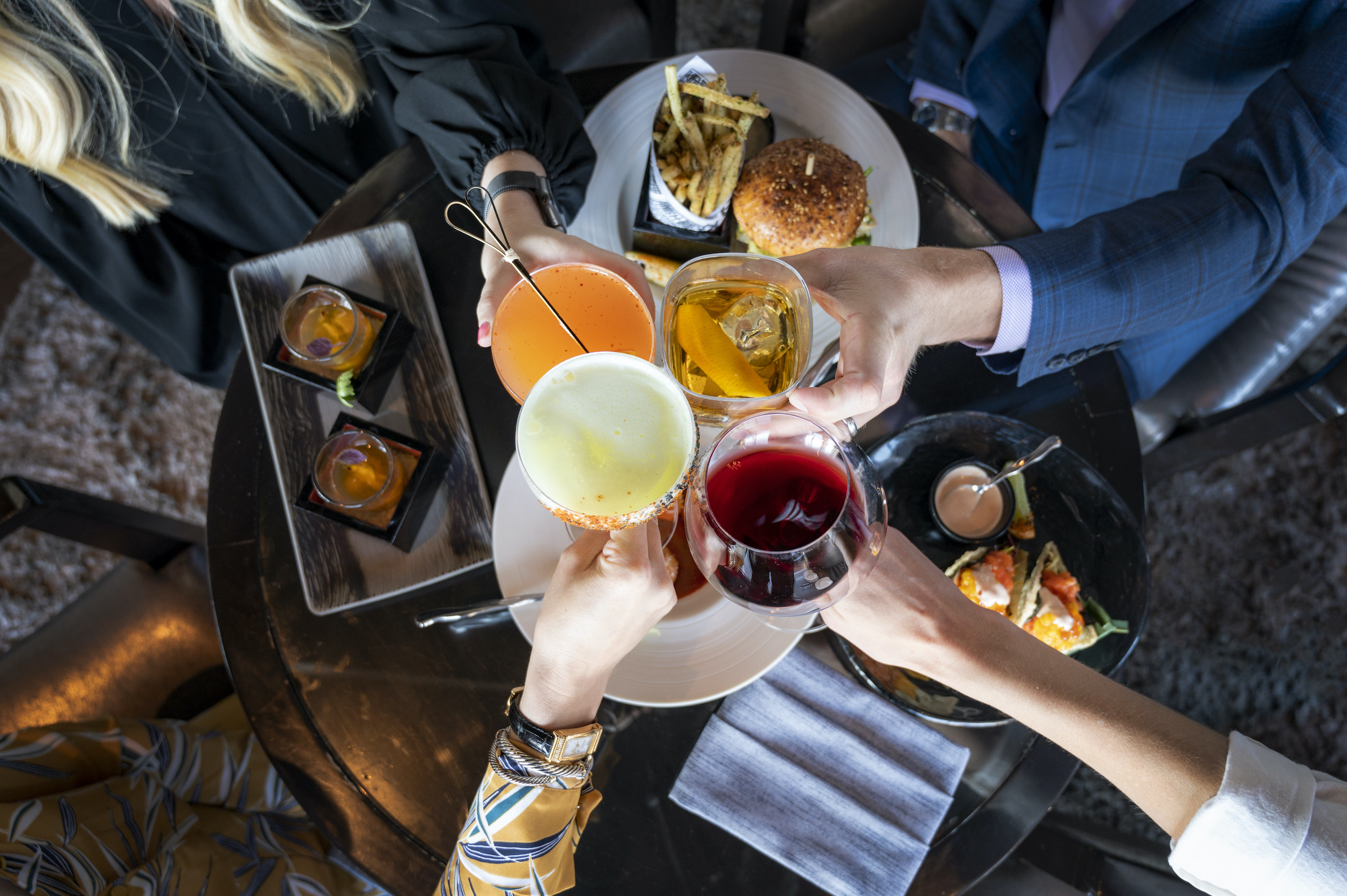 If you have enjoyed the view from the Ascend Prime Steak & Sushi lounge on the 31st floor of Lincoln South Tower, then you've probably met Jordyn Gascoyne. As one of the lounge servers, she provides her guests with an intimate and comfortable experience, whether late-night dining, celebrating an anniversary, or sipping libations during happy hour.
Jordyn has served in the hospitality industry for over nine years, working in all restaurant structures from casual to fine dining. When she first stepped foot into Ascend just seven months ago, she found the atmosphere intoxicating, and strived to become a part of the team.
"From my first week of training here, you come to find how passionate and how devoted employees are to what they do," she said. "Everybody here loves what they do, and that was enlightening. It made me even more excited to come in. Working together for the bigger picture just makes this place different to me — everyone genuinely cares."
Jordyn said she was seeking a space that would support her career progression and help grow her skillset. She needed a place that fostered creativity, innovation, and customer experience — and found that at Ascend Prime Steak & Sushi. "Everything here is so detailed and precise, and we do it for a reason," she said. "The feeling, the atmosphere, the environment, the way we place dishes, drop drinks, greet tables; it's all very deliberate."
As Jordyn is and continues to be an essential player of the Ascend team, she has begun branching into other interests throughout the restaurant, and looks forward to advancing her career at Ascend.
ELEVATE YOUR CAREER BY JOINING JORDYN AND OUR FRONT-OF-HOUSE TEAM —

APPLY HERE

.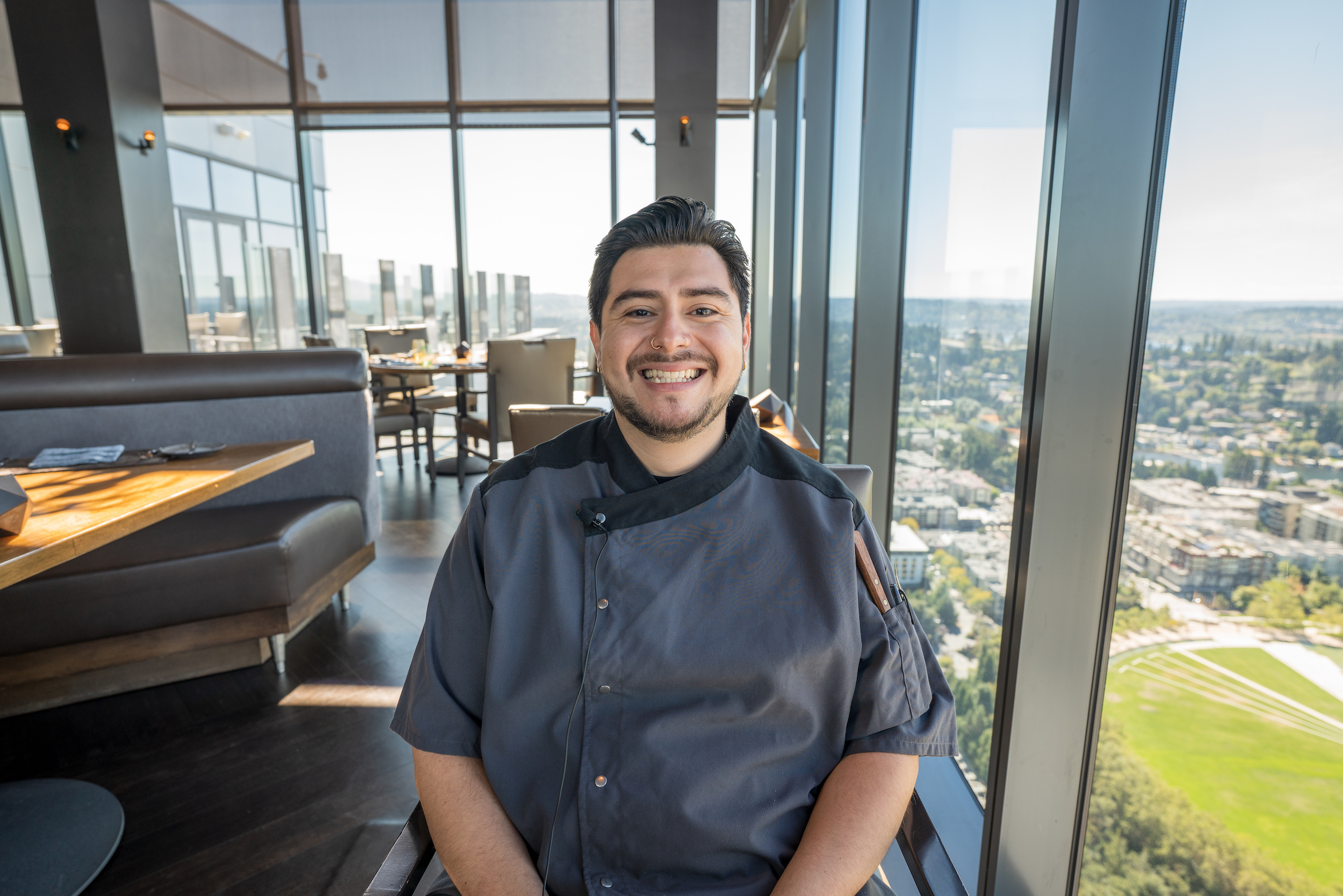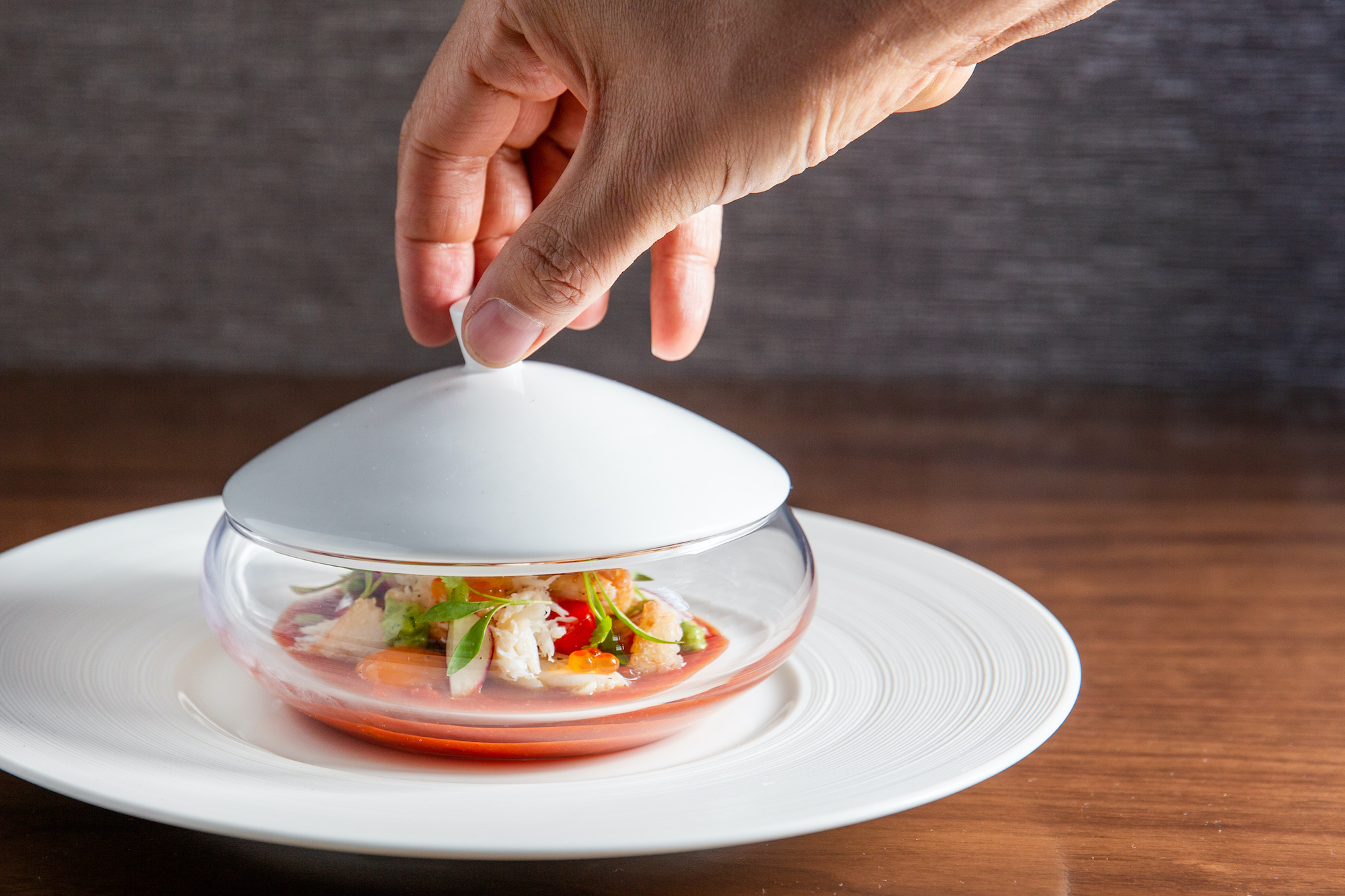 Chef Juan Orozco is one of the proud members of the prestigious Ascend Prime Steak & Sushi culinary team. When searching for the right culinary career choice for him, he came upon Ascend and knew it was a match. "That's where I need to go, that's the best restaurant in Washington," he recalled.
Two years ago, Chef Juan left another Seattle-area steakhouse and began his ascension to the 31st floor. He started cooking on the line: prepping ingredients, assisting with different stations, and recreating the magical dishes designed by the executive chef. However, he came to Ascend with his eyes on higher goals: to elevate his culinary talents. With over 12 years of experience, Chef Juan was looking to create in a kitchen that was inspirational, innovative, and, most importantly, supportive of his career progression. After joining the team, he experienced the captivating atmosphere and environment firsthand.
As with any passionate chef devoted to their craft, Chef Juan thrives in seeing his guests light up in awe as the plates are placed on their tables. "People love to take pictures of our food, which is a great way to show the world what we're capable of creating," he added.
Behind every ingredient, course, and pairing is a world of curiosity, imagination, and hard work, and that's Chef Juan's bread and butter. "I love watching my team grow, being creative, and providing our guests with the best experience possible," he said. "The team is like family here."

ELEVATE YOUR CAREER BY JOINING CHEF JUAN OROZCO AND OUR CULINARY TEAM —

APPLY HERE

.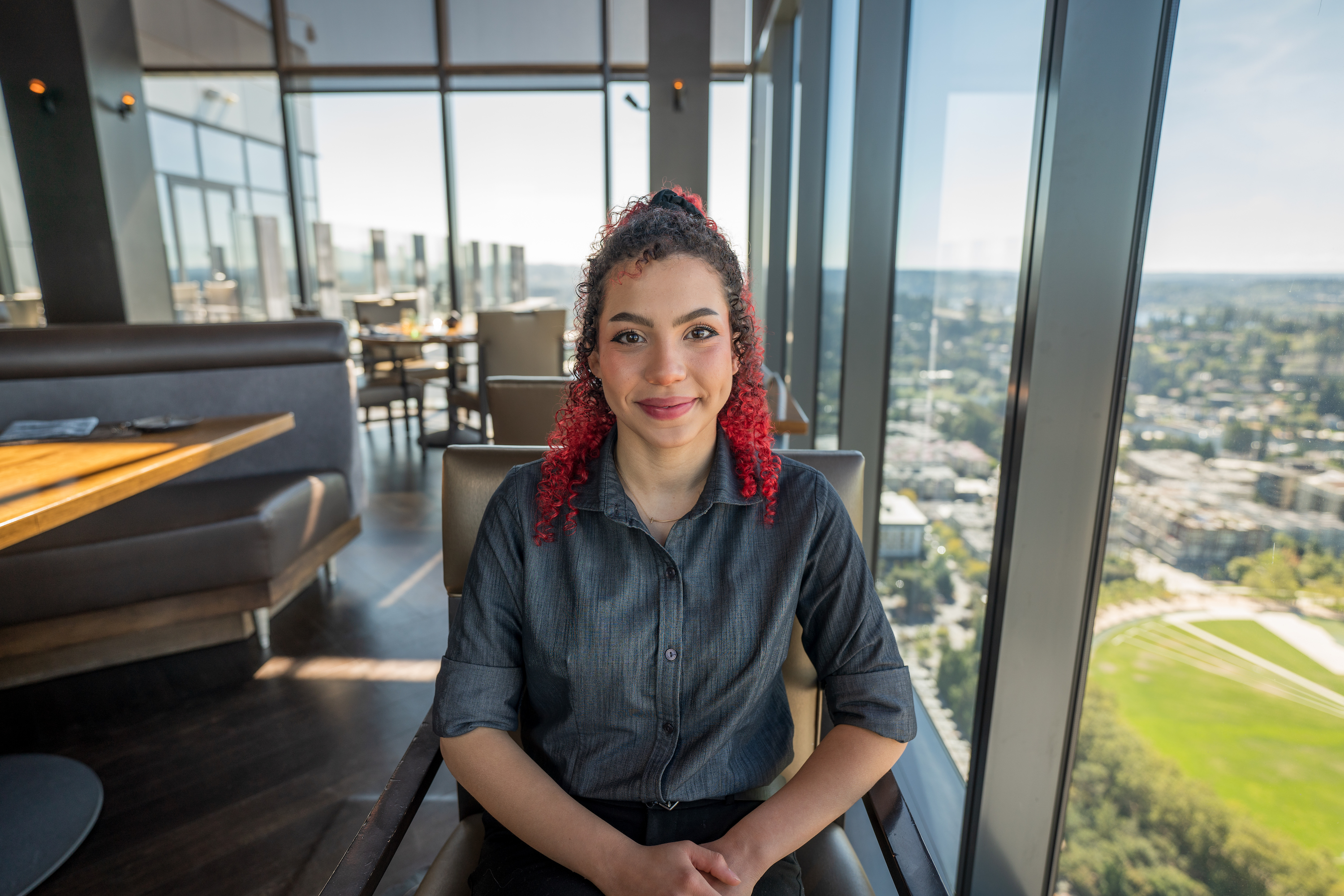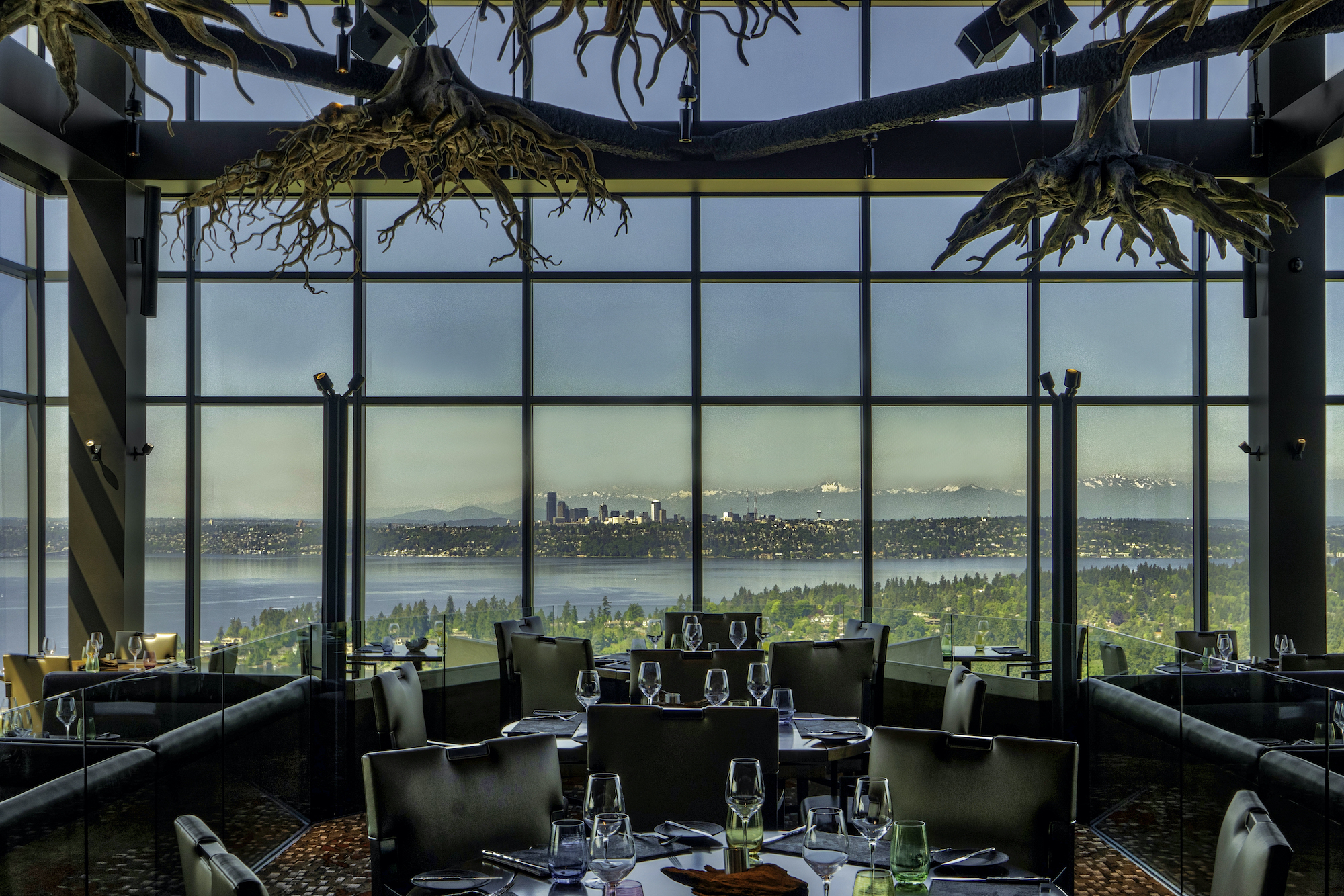 Daisy Richardson goes beyond transporting food from kitchen to table. Her passion and positivity also accompanies the dishes landing in front of her guests. She is the bridge between our culinary team and the customer's appetite.
"The knowledge here is awesome," Daisy said, noting this is her first fine-dining restaurant experience in her three-year career in the hospitality industry. Compared to the other restaurants she has worked in, she said Ascend Prime Steak & Sushi surpasses all expectations, specifically when training staff on pairings, ingredients, and ambiance.
"Being here just feels different," she added. "It's one of the hardest restaurant jobs I've had, but it feels rewarding at the end of the day. It's really nice to work for and with people who have a passion for the food, the beverages, and the overall experience."
Above all, Daisy finds reactions to Ascend's unique culinary program to be the most satisfying part of her job. "Our guests often see the dishes and gasp, and say, 'that's beautiful, that's incredible.' That really sparks something for me."


ELEVATE YOUR CAREER BY JOINING DAISY AND OUR FRONT-OF-HOUSE TEAM —

APPLY HERE

.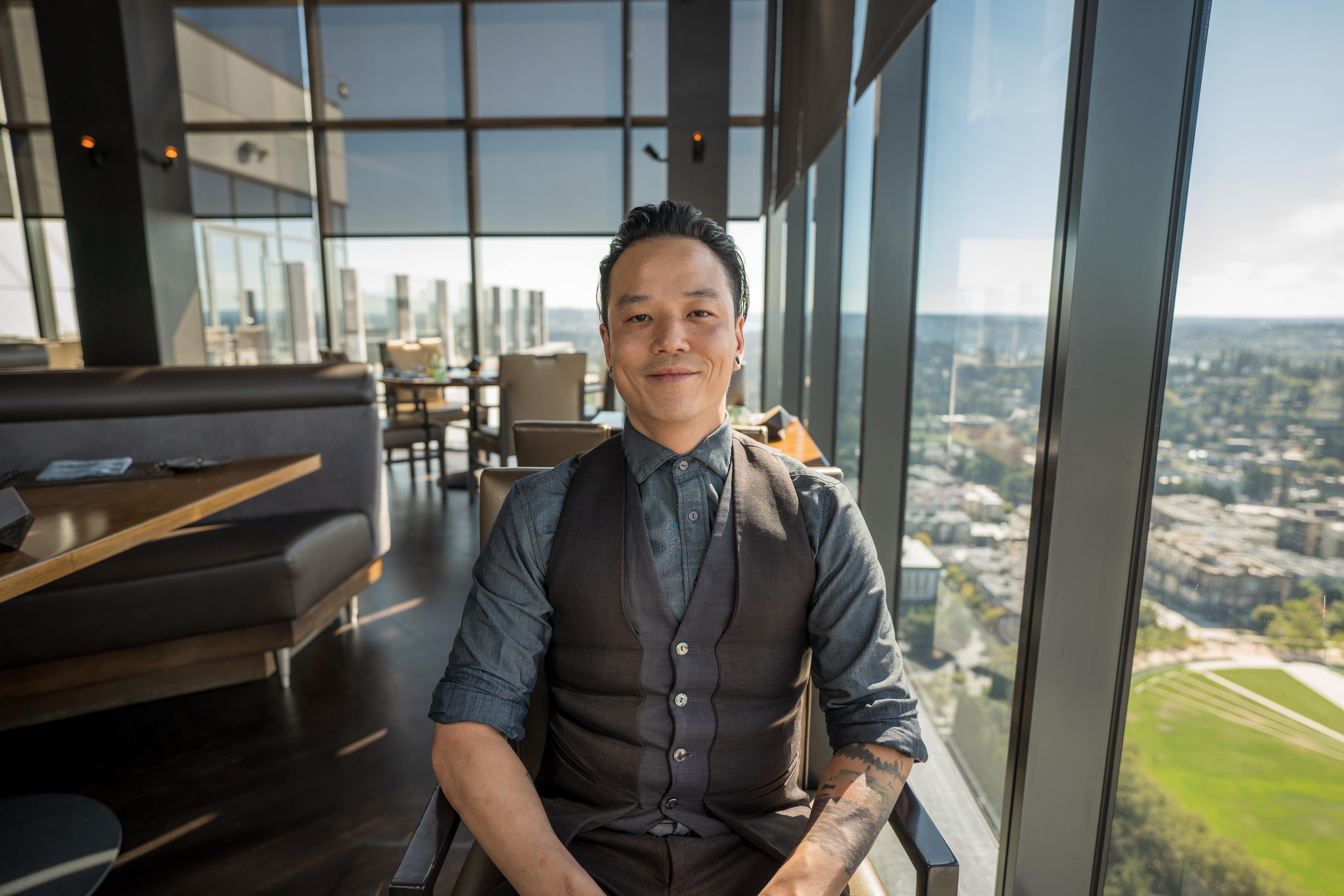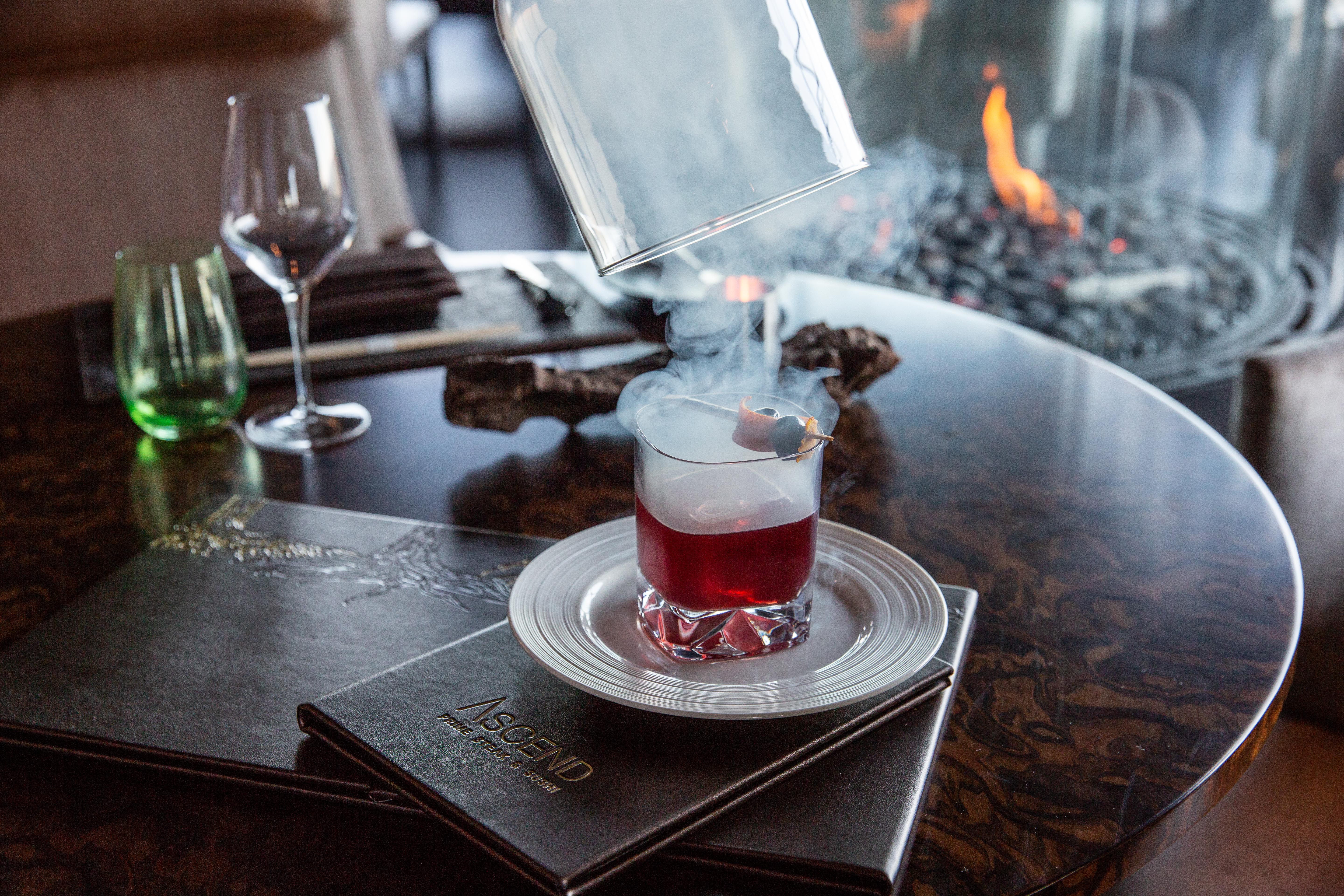 Rising smoke, billowing fog, bright colors, inspired creations: it is in this environment where Chaz Lee lives and breathes. As the lead mixologist at Ascend Prime Steak & Sushi, Chaz eclipses the standard cocktail to reveal works of drinkable art.
"The sky's the limit and every day we're getting better at what we do," Chaz says of his team's creations at Ascend. "I don't think any other bartender in the world has a beautiful view like this."
Before he had Ascend's 360-degree, PNW panorama, Chaz spent the first 10 years of his culinary career working in his family's restaurant, washing dishes and honing skills from the culinary team around him. Since joining Ascend over three years ago, he has devoted his craft to align his innovative libations with the culinary masterpieces coming from of the kitchen.
"I've done more in the last three years than I have in my 18-year career. Ascend has really pushed me to be a leader here," he adds. "With the vast array of spirits, wine, and champagne, I've really elevated my knowledge."
Take the Washingtonian, for example, the restaurant's hybrid of a Manhattan and Old Fashioned, served in a glass case with smoke swirling inside. Or Stompin' the Garden, one of Chaz's latest creations, that flawlessly ties together rum and elderflower liqueur with celery and cucumber juices, lemon, avocado, and lemongrass bitters.
"The cocktail experience isn't just about the cocktail, it's showing guests new flavors that they haven't experienced or showing them new spirits they've never heard of," he adds. "It's being able to customize things to what the guest wants."
Not only has Chaz been able to showcase his mixology talents, he also has had the opportunity to gain a plethora of knowledge between his own craft and the guest experience.
"Ascend allows us to be creative, which shows with our culinary and beverage programs," he said. "It is a great place to work, with everything from whimsical themes to delivering at the highest quality."
ELEVATE YOUR CAREER BY JOINING LEAD MIXOLOGIST CHAZ LEE AND OUR MIXOLOGY TEAM —

APPLY HERE

.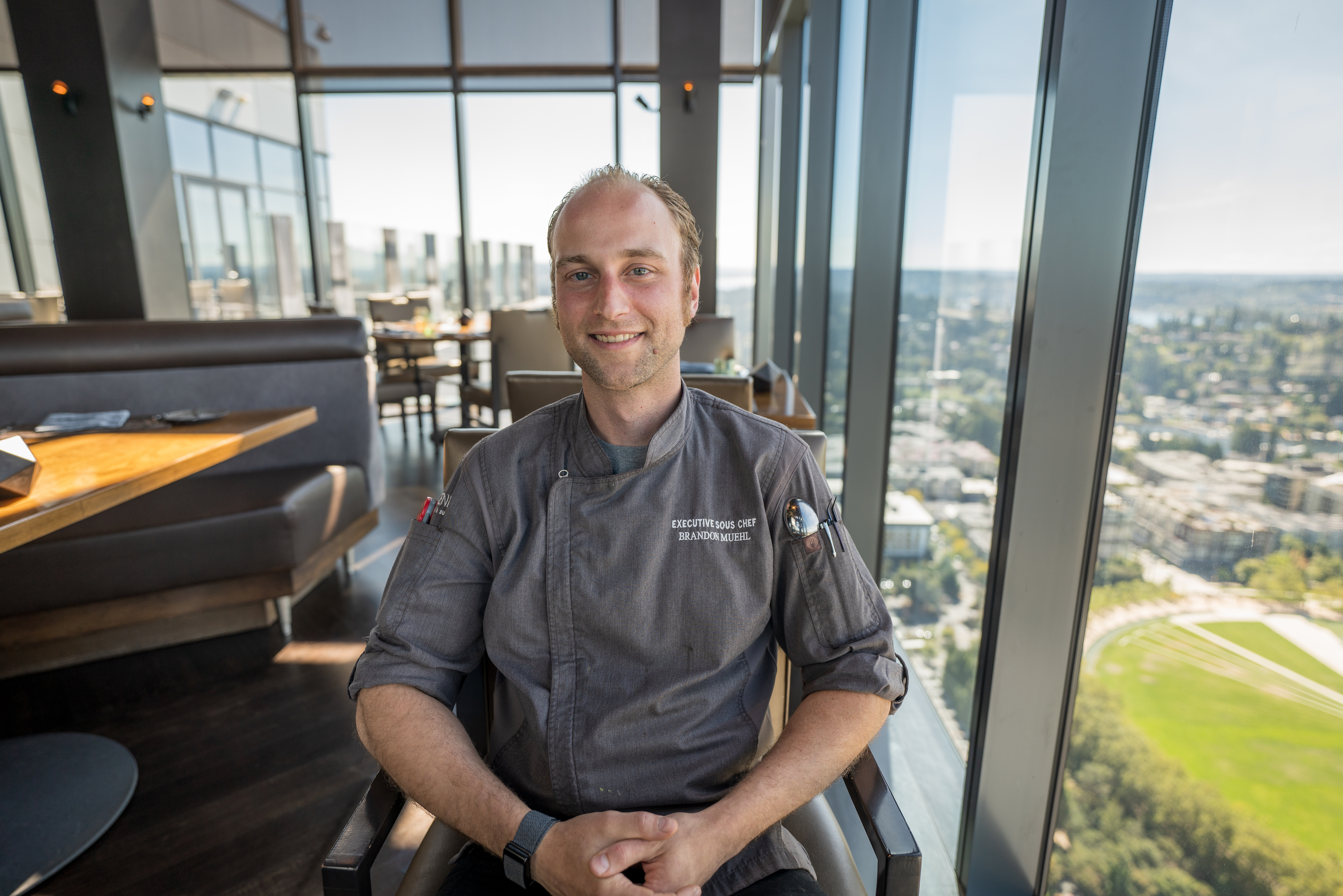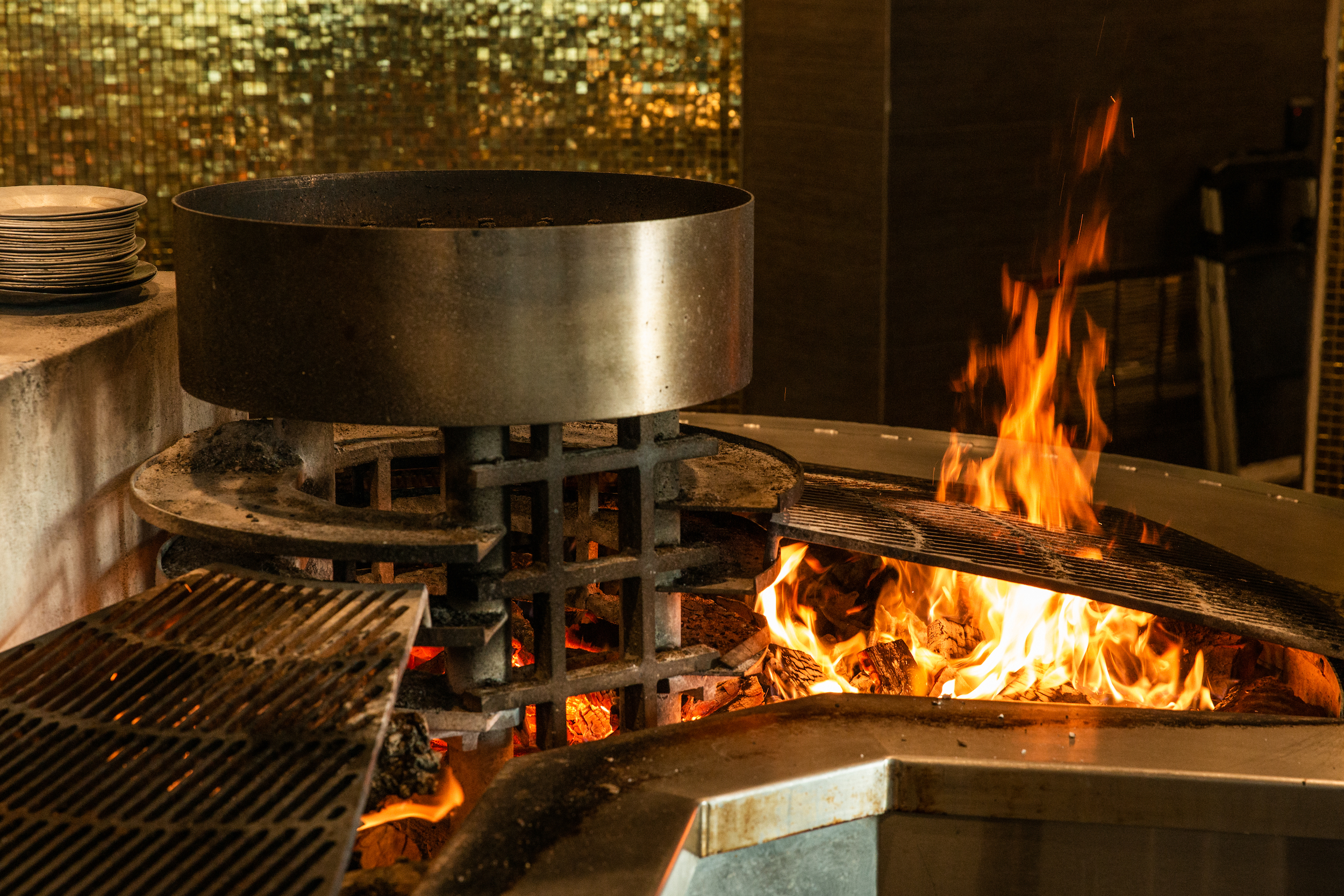 "Ascend is the best place in the Northwest."
Executive Chef Brandon Muehl continually seeks to transcend his culinary career, and that's why he chose Ascend Prime Steak & Sushi.
Starting as a Sous Chef in 2019, Brandon quickly moved into the Executive Sous Chef position, demonstrating his passion and motivation for the culinary art. "Just a couple weeks ago, I was offered the opportunity to become the leader of everything in the back of the house," Brandon said. "I've always had a lot of self doubts, like many other individuals, but that was very validating for myself and my ability. The idea that my colleagues truly believe in my capabilities helps me flourish."
As the executive chef, Brandon is responsible for innovating and executing top-tier culinary masterpieces that look as incredible as they taste. "We get to work with so many wonderful products and so many wonderful companies," he added. "It gives us the opportunity to actually devote time to play around with fun and exciting things."
While he is running the show, Brandon said it is important to both his and Ascend Prime's philosophy to collaborate with the entire culinary team, ensuring everyone has a chance to vocalize their ideas. "I've never worked in a restaurant where there are so many individuals that are so eager to learn, to grow, and to mold," he said. "I think that's the most exciting thing." Beyond the kitchen, Brandon works closely with Ascend Prime's leadership team to perpetually push the envelope on creating a unique restaurant experience. "There's a certain understanding here that things aren't always black and white, and that's not."


ELEVATE YOUR CAREER BY JOINING EXECUTIVE CHEF BRANDON MUEHL AND OUR CULINARY TEAM —

APPLY HERE

.